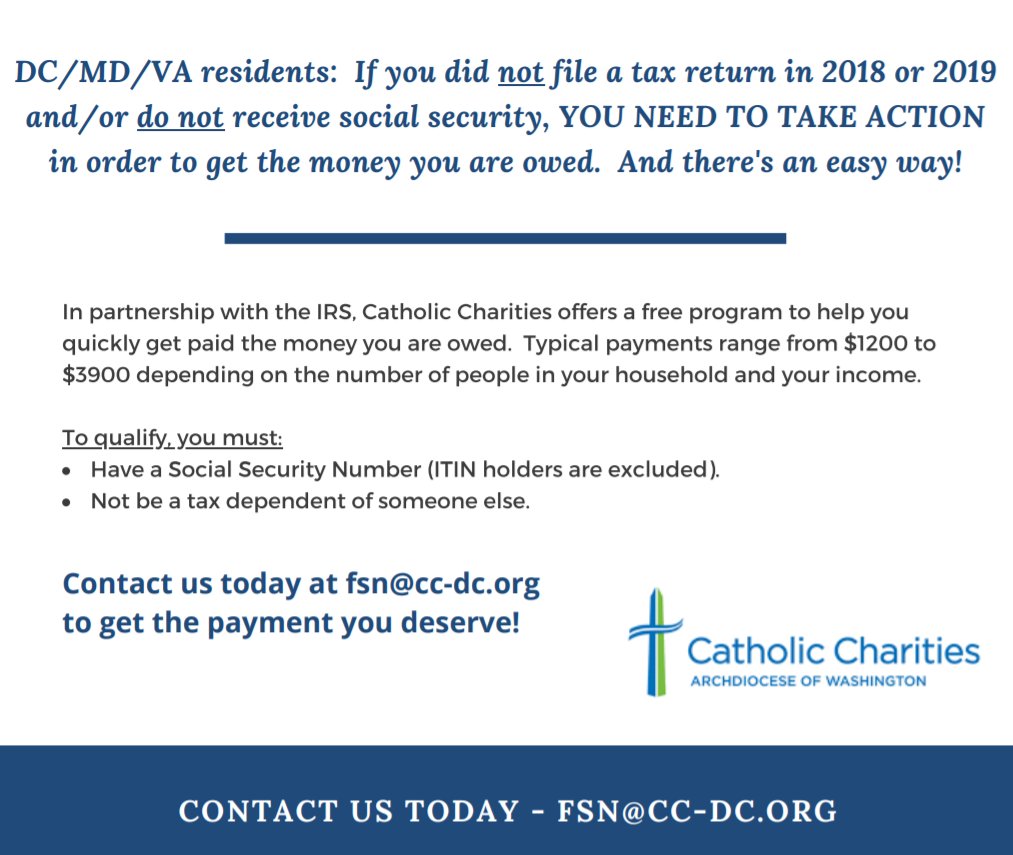 As the pandemic continues to impact the economy, understanding personal finance has become a vital survival skill for millions of newly unemployed Americans. But learning how to financially prepare for the future is still a luxury for far too many poor families who struggle day to day.
Today is National Financial Awareness Day (#nationalfinancialawarenessday), a timely reminder that financial literacy can be a critical lifeline to help families weather economic downturns. It's also the message the staff of Catholic Charities' Financial Stability Network (FSN) regularly communicates to vulnerable Washingtonians who are at risk of missing out on crucial financial support.
According to Capital Area Asset Builders, an estimated 35,000 D.C. residents have not filed a claim with the Internal Revenue Service to receive their stimulus checks from the COVID-19 Economic Impact Payment (EIP) program. If these cash payments go unclaimed, it will leave about $42 million on the table instead of going to the people who need it most.
FSN is tackling this economic injustice head on through its new EIP assistance program.
Program Manager Deacon Jim Shanahan and his team of volunteers are working to assist low- or no-income residents – many of whom reside in our shelters — access the funds they are entitled to. Because many of these clients are considered non-filers, meaning they haven't paid taxes because of low incomes or don't receive Social Security payments, the IRS simply does not know they exist and can't send them a check. To further complicate the issue, these clients are either unaware that they need to reach out to the IRS or they think that they're ineligible to receive the payments.
This money can be the difference between a family paying rent, or face eviction.
"That for a family struggling during a time when someone may have been laid off, and they're trying to get food on the table and pay rent. That could cover food and rent for a lot of people trying to make it week to week," FSN volunteer Mike Littman recently told the Catholic Standard.
The FSN team is helping them navigate the IRS website and a series of forms they need to submit a formal request for a stimulus check.
Volunteers help clients determine their eligibility and walk them through the registration process, step by step.
To bridge the financial information gap some people face, FSN staff also educates non-filers about other economic programs available to them, like the Earned Income Tax Credit and VITA tax preparation services.
The free EIP assistance program supplements FSN's ongoing financial mentoring initiatives that teach clients that financial literacy is a critical skill and not a luxury.
For more information on Catholic Charities' assistance with registering for a stimulus check, contact FSN@cc-dc.org.