President and CEO Msgr. John J. Enzler delivered these remarks at the 2022 Catholic Charities Gala on April 9 at the Marriott Marquis.
Looking out at this room, I realize just how much I've missed being present with you.
The last 24 months have been the most challenging of Catholic Charities' 93-year history. The emergence of COVID-19 required us to rethink our work and how we serve individuals, how we connect with the community, how we work with one another.
I have to admit, it has been tough.
But our dedicated staff stepped up with new and innovative ways of working. We added telehealth services, and we provided job training and other services virtually. We greatly enhanced our food distribution and gave out 5.4 million meals – outdoors.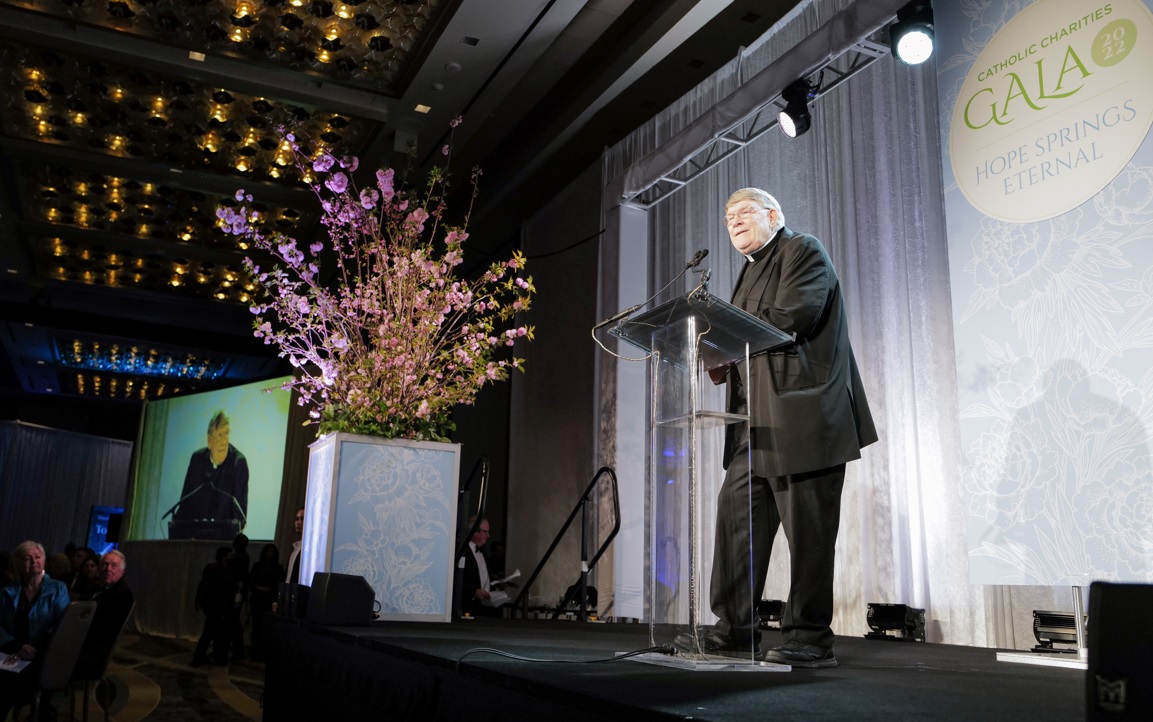 At the same time, a core of our staff continued in-person services. We found ways to engage our clients without endangering their health or the health of our staff.
The pandemic opened doors for us and sparked creative new solutions for longstanding problems. As a result, Catholic Charities is smarter, stronger, surer of our future.
It was an essential evolution because the people we serve need not a handout but a hand up to improve their lives. We continued to serve people one by one, day by day, all throughout the pandemic.
Thank you for helping to make our evolution possible with your financial gifts and contributions of time.
Your commitment also meant a successful capital campaign — which we publicly launched at last year's gala. More than $100 million was raised to support our current programs and to provide for our future.
My immense gratitude goes out to Robert and Anna Trone, who led the campaign.
I'd also like to recognize campaign honorary chairs Scott and Courtney Clark Pastrick, and Pat Clancy and Mary Anne Clancy, whom we lost last year.
And, of course, the Campaign Executive Committee.
Hundreds of you contributed to the success of the campaign, truly making the effort "Our Community. Our Commitment. Our Legacy." Thank you!
Among our many supporters is the McMurtrie family. They are a special family with a dedication to service shown over many years.
Amanda, Austin, Lizzy, Billy, Meghan, Eddie and Maria, you have our gratitude for your work as 2022 gala chairs.
The McMurtries announced that the gala raised $3.1 million to support Catholic Charities 52 programs.
To which Father John added: It's unbelievable. It's so fulfilling to see so many people who say, "I want to help this cause." To all of you who gave tonight and those who might still give, thank you so much.
Special note: The 2023 Catholic Charities Gala, to be held on April 1, will honor Father John, who will celebrate his 50th anniversary as a priest in the Archdiocese of Washington.