The Washington, D.C., Alumnae Club of Saint Mary's College has brought an abundance of Christmas joy to two D.C. families, while helping them make a fresh start.
The recipients of this extraordinary charitable act — a family of 10 and a family of four led by single mothers — were referred to the alumnae of the Notre Dame, Ind., college for their annual "Together for Others" campaign by Catholic Charities' School Based Mental Health program. Both families are active members of the program.
To launch the Christmas season, each family received a tree and all the trimmings in early December. That was followed by the delivery of donated gifts in the last week. Santa's sleigh — a truck driven by Marc Witkowski of Father John's Attic — was teaming with toys, craft items, electronics, household items, small appliances, computers, televisions, furniture, clothing, shoes and school supplies, all needed items identified by the families and Catholic Charities staff who work with them.
The Christmas deliveries were met with delight and excitement by the mothers and their children. They will celebrate on Christmas day with a meal provided by Catholic Charities.
One of the boys said, "We have never had a Christmas like this before." His mother added, "I can't believe this is really happening. Thank you so much. This is unbelievable. My family and I thank you."
In a year filled with so much pain, frustration and worry, this outpouring of donations overwhelmed even Beth Veihmeyer ('77 grad), leader of "Together for Others." She has led the annual alumnae community service project for 32 years, and projects have included overhauling houses and schools, funding a food pantry for food insecure students and, with the help of Catholic Charities, assisting numerous deserving families.
Yet, she was amazed by this year's abundance of kindness by alumnae both young and old.
Local Saint Mary's alumnae were joined in their generosity by friends and graduates of the University of Notre Dame. In all, more than 150 people made donations.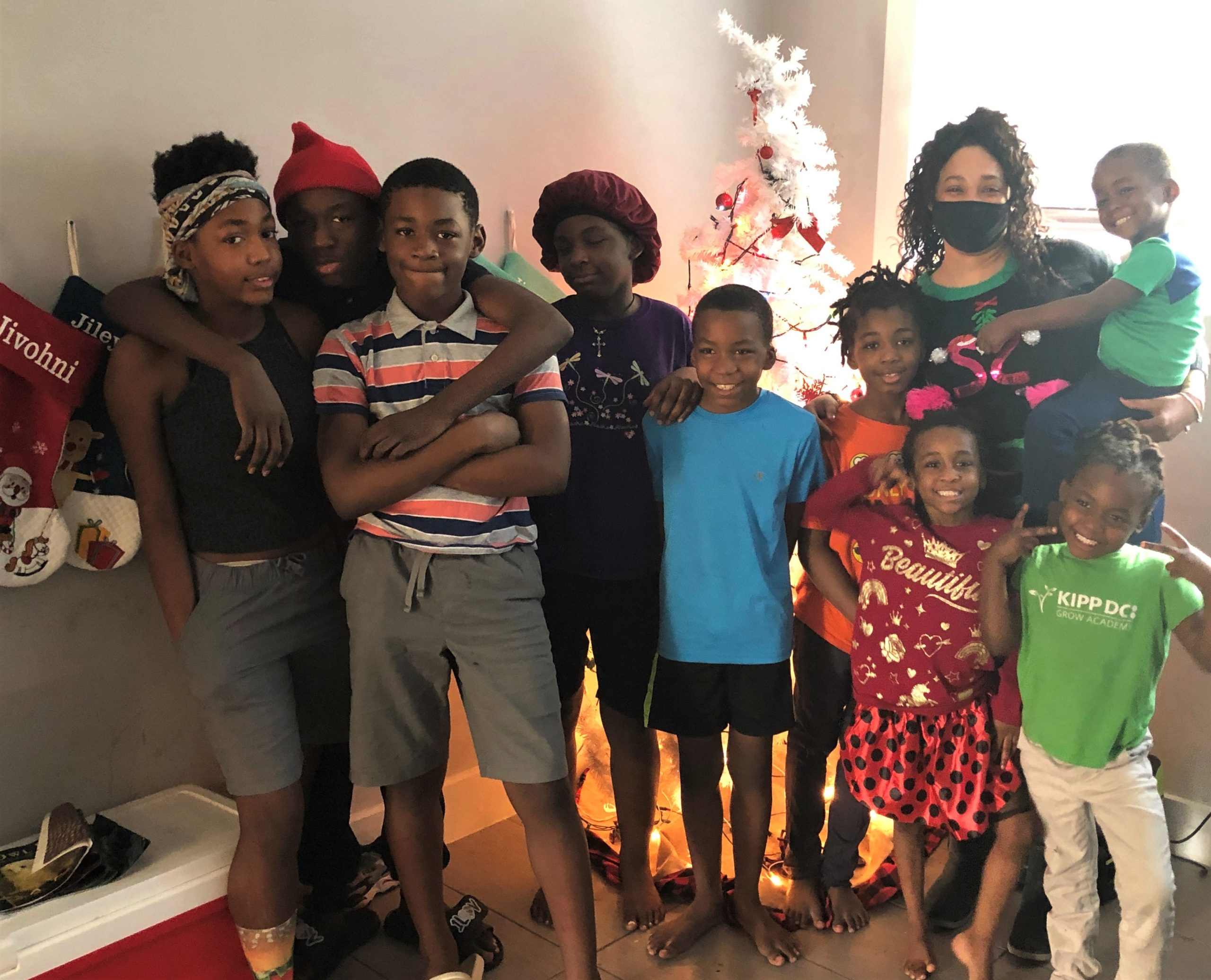 "As graduates of Saint Mary's College, service and social responsibility are near and dear to us since our days on campus," Veihmeyer says. "The mission of the college, as well as the vision of its founders, the Sisters of the Holy Cross, are rooted in service to humankind."
Organizing such an effort takes a village, and Veihmeyer credits fellow alumnae Julie Steinke ('93), club president; Claire Easby-Smith ('11); Maureen Russell ('04); Julia Sturges ('18) and Kaitlin Sullivan (ND '10), president of the Notre Dame Alumni Club of Washington.
For the first time, members of the club used an Amazon wish list in their community project. "We had 186 items listed, and we received every single one," Veihmeyer says. Additionally, members of the group donated money, which will be put toward the deserving families' rent, grocery bills and future clothing purchases.
One family was in desperate need of a reliable vehicle, a wish that came true when Jim Coleman Automotive in Bethesda agreed to inspect the family's vehicle and address any repairs. The Wider Circle and Father John's Attic provided rugs and pieces of furniture, which Catholic Charities' facilities staff members put together.
Both families lacked housing before moving into their current homes. The "Together for Others" effort was designed to not only make their Christmas bright but to provide each family with a fresh start.
"On Christmas morning, each of the ladies can wake up and begin anew," Veihmeyer says.
"It's been our privilege as an alumnae club to share Christmas with both of these families, and we wish them hope, good health and happiness in 2021."