We are delighted to share the news that Catholic Charities DC has a new website. After months of planning, a redesigned CatholicCharitiesDC.org came online on Sept. 28.
Whether you are seeking help, looking for a way to volunteer or offering your support with a donation, the website provides easy-to-find information, resources and ways to connect.
Please take a few minutes to explore the site to learn about the work of Catholic Charities, the most comprehensive social services provider in D.C. and suburban Maryland. On the website, you can explore …
Get Help: "Program Finder," a new feature, allows users to search for programs and services by name, type of help, location and the age of client. Whether you're seeking developmental disabilities services, health care, job training or assistance from any of our 50 services, "Program Finder" will help you find the help you need.
Get Involved by Volunteering: Want to give back but aren't sure how? Check out our volunteer section, which details opportunities for one-time volunteer activities, on-going volunteer roles, internships and student activities.
Get Involved by Giving: Catholic Charities' work is possible only because of our dedicated supporters. Learn how we accommodate many types of giving, from digital donations to donations of stock to gifts of goods to estate planning.
Among the site's other improvements are streamlined navigation, an agency-wide calendar, translation for languages spoken by our clients, and more photos and video. Accessing pages is faster, and the site is easier to read and navigate on mobile.
To facilitate improved navigation, many of the URLs have changed. Please use "search" to find your favorite pages and update your bookmarks.
When they learn of Catholic Charities' work, people often say, "Tell me more." We think the new website will do just that — in an easy-to-find, easy-to-read way.
We'd like your feedback about the site. And, of course, we are happy to answer questions about the site or any of our services and volunteer activities. Use the new "contact us" form or send us a note at Communications@cc-dc.org.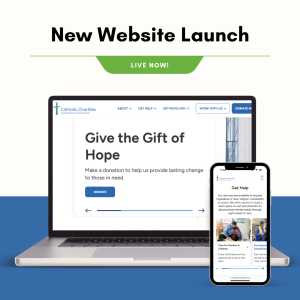 Share:
You May Also Like: