By Christina DeNovio
Catholic Charities' Volunteer Medical Clinic "doesn't exist without the 'V' for Volunteers," says Medical Director Dr. Christopher Dunford.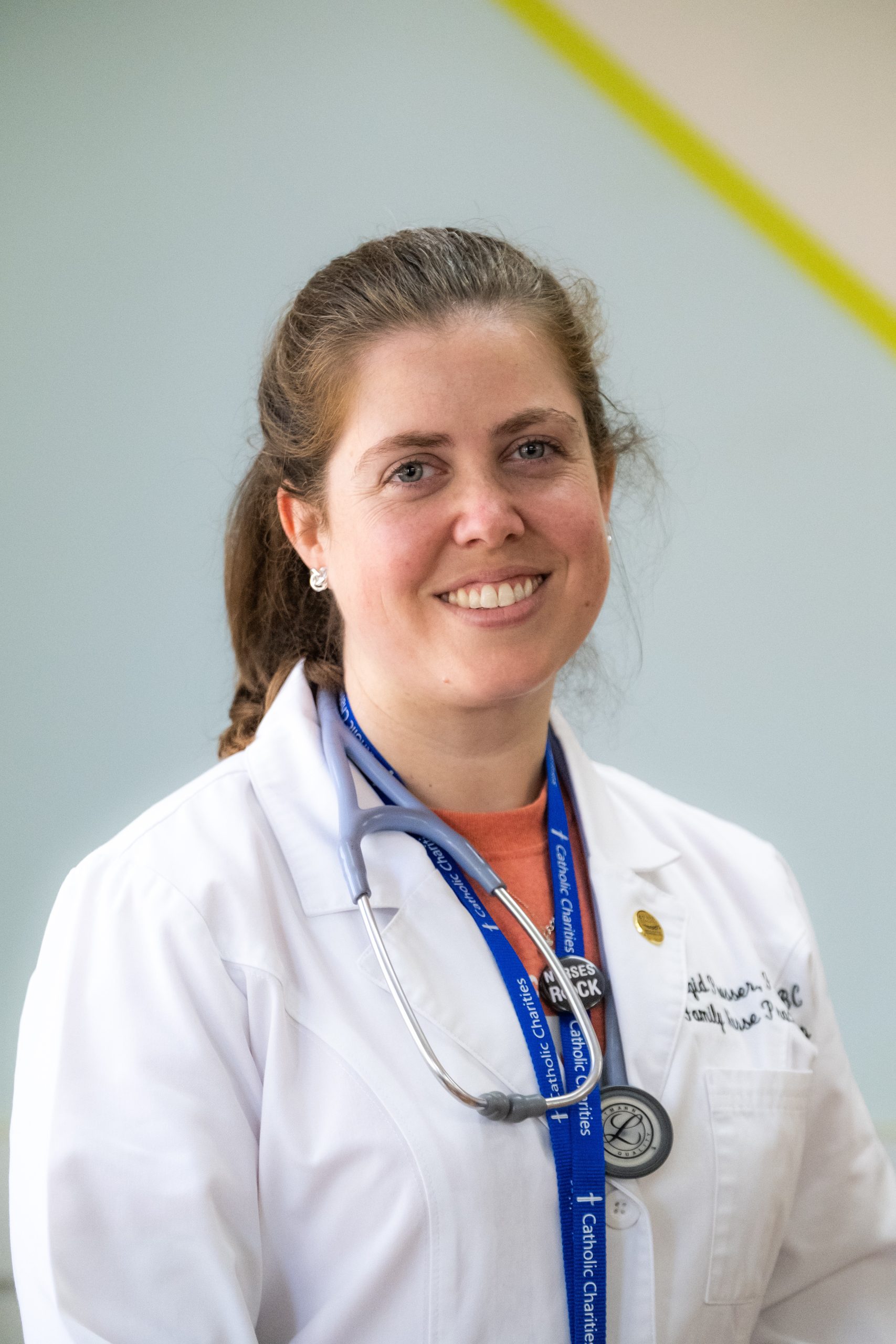 Located in Northwest D.C., the Volunteer Medical Clinic provides primary health care to those who normally would not have access to it. The clinic relies on volunteer medical providers who prioritize helping others, especially those who do not have access to medical care through public benefits or private insurance.
"The clinic is both volunteer and patient centered," says Brigid Prosser, clinic director. "We strive to provide outstanding culturally competent patient-centered care while also remaining flexible for our volunteer clinicians to name their schedule."
That flexibility allows Sara Onyango, a women's health nurse practitioner who is on active duty as a lieutenant commander with the U.S. Public Health Service Commissioned Corps, to volunteer even though she lives in New Hampshire. A medical device investigator, Onyango discovered Catholic Charities DC while searching online for opportunities to practice as a women's health nurse practitioner and maintain clinical currency.
Onyango travels more than 400 miles to D.C. at least once a month to serve female patients. At the clinic, she performs well-woman exams and treats common gynecological conditions. A significant part of her service to Catholic Charities includes performing cervical and breast cancer screening, providing education on natural family planning and offering testing for sexually transmitted infections.
"I have enjoyed providing education, engaging in shared-decision making and empowering my patients to make the best decisions for them and their bodies," she says.
"Flexible scheduling not only allows volunteers to remain committed to their patients while also having time for work and family commitments," Prosser says, "but also allows clinicians to determine how much time they want to spend per patient. They can choose to see anywhere between one to three patients per hour."
Two other volunteers illustrate the commitment and contribution made to the clinic by medical professionals.
Dr. Stephany McGann, a medical officer with the U.S. Public Health Service, is a rheumatologist and internal medicine doctor who serves Catholic Charities patients weekly at the clinic and Catholic Charities' Health Care Network. Dr. McGann became involved as a physician volunteer in 2020 after volunteering at the agency's Mission of Mercy dental clinics.
Dr. McGann assists patients with rheumatologic diseases such as lupus, rheumatoid arthritis, osteoarthritis and other joint problems. With the help of the Catholic Charities' Medication Assistance program, one of Dr. McGann's patients with rheumatoid arthritis received a year's supply of a special medication free of charge. The medication would have cost the patient about $149,000 without assistance.
Dr. McGann finds working for Catholic Charities very rewarding, especially when she is able to treat patients who have debilitating rheumatoid arthritis that prevents them from performing daily living activities. By serving those in need, she has helped patients obtain positive results that allow them to function and carry out their activities without barriers.
Reflecting on her years volunteering and serving various clients, she said, "Working for Catholic Charities has been a rewarding experience, and I look forward to coming to the clinic every Monday. The experience has been invaluable, and I look forward to serving for a long time."
The Volunteer Medical Clinic began in 2020 with the help of Dr. Colin Shepard, who now volunteers weekly, calling it the highlight of his week. He was working at the U.S. Food and Drug Administration at the beginning of the pandemic, but he now serves as a Centers for Disease Control liaison to the Health and Human Services assistant secretary for preparedness and response.
Dr. Shepard first became involved with Catholic Charities when searching for an opportunity to volunteer as a clinician in the area. He primarily volunteers with outpatient services, internal medicine and primary care. The majority of Dr. Shepard's services involve treating adults with chronic problems, which he considers both challenging and fulfilling.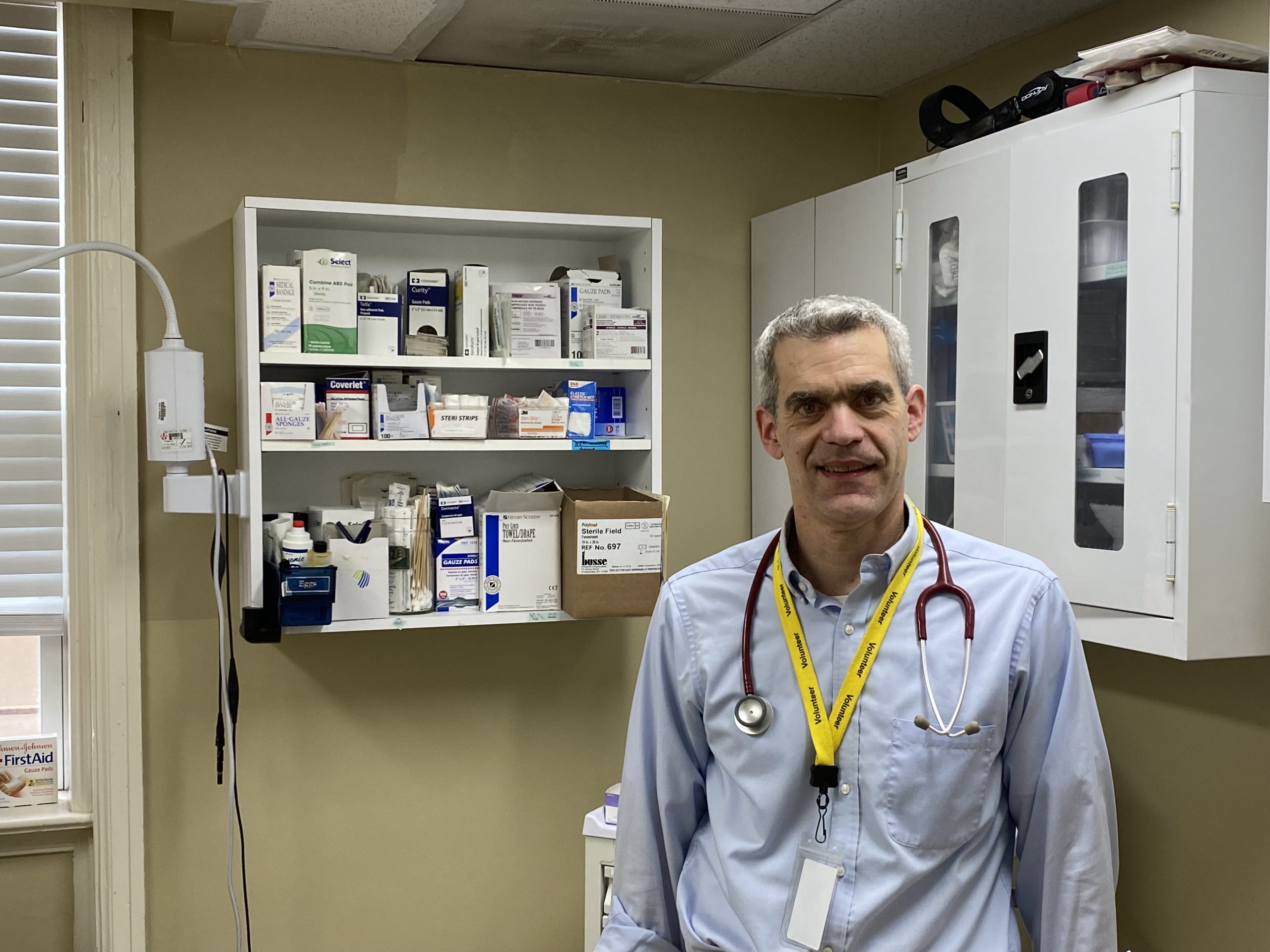 "There are a few patients who have come in with their diabetes wildly out of control, and then they get it under very good control by coming in regularly. You don't see that often," he says.
Last year, the Volunteer Medical Clinic served 646 people through 1,932 appointments. It is with the help of volunteers like these that the clinic can assist so many who are battling a range of health issues. "I am so grateful to connect outstanding clinicians interested in direct patient care with the opportunity to serve the community in a mutually beneficial way," Prosser says.
In appreciation of the volunteers, she says: "We give clinicians the opportunity to get back to the reason they became clinicians — to help patients. While removing the pressures of time restrictions and the burden of billing, clinicians see patients at a pace that they choose and can take the time our patients need.
"At the Volunteer Medical Clinic, we connect clinicians and patients in a caring environment, and everyone benefits from the experience."
The clinic uses a variety of volunteers. To learn about volunteering, visit our web page.
Christina DeNovio, a junior at Wake Forest University, was a fall 2022 intern at Catholic Charities.