Rev. Msgr. Charles Antonicelli has collaborated with Catholic Charities DC over the years as pastor at three parishes and as vicar general for the Archdiocese of Washington.
Now, he's putting those experiences and knowledge to work in a new role, as vice president for mission at Catholic Charities.
In February, Father Charles took on a dual role – the position at Catholic Charities and as pastor of St. Patrick Catholic Church, adjacent to the Hickey Center.
A member of Catholic Charities' executive team, he says he's learning "about the many facets of Catholic Charities from Father John, the executive team and the staff so that I can assist them in fulfilling the mission of Catholic Charities.
"I hope to be a real help to Father John and Catholic Charities and continue his outreach to those in our community who can help Catholic Charities have the resources it needs to care for the poor well into the future."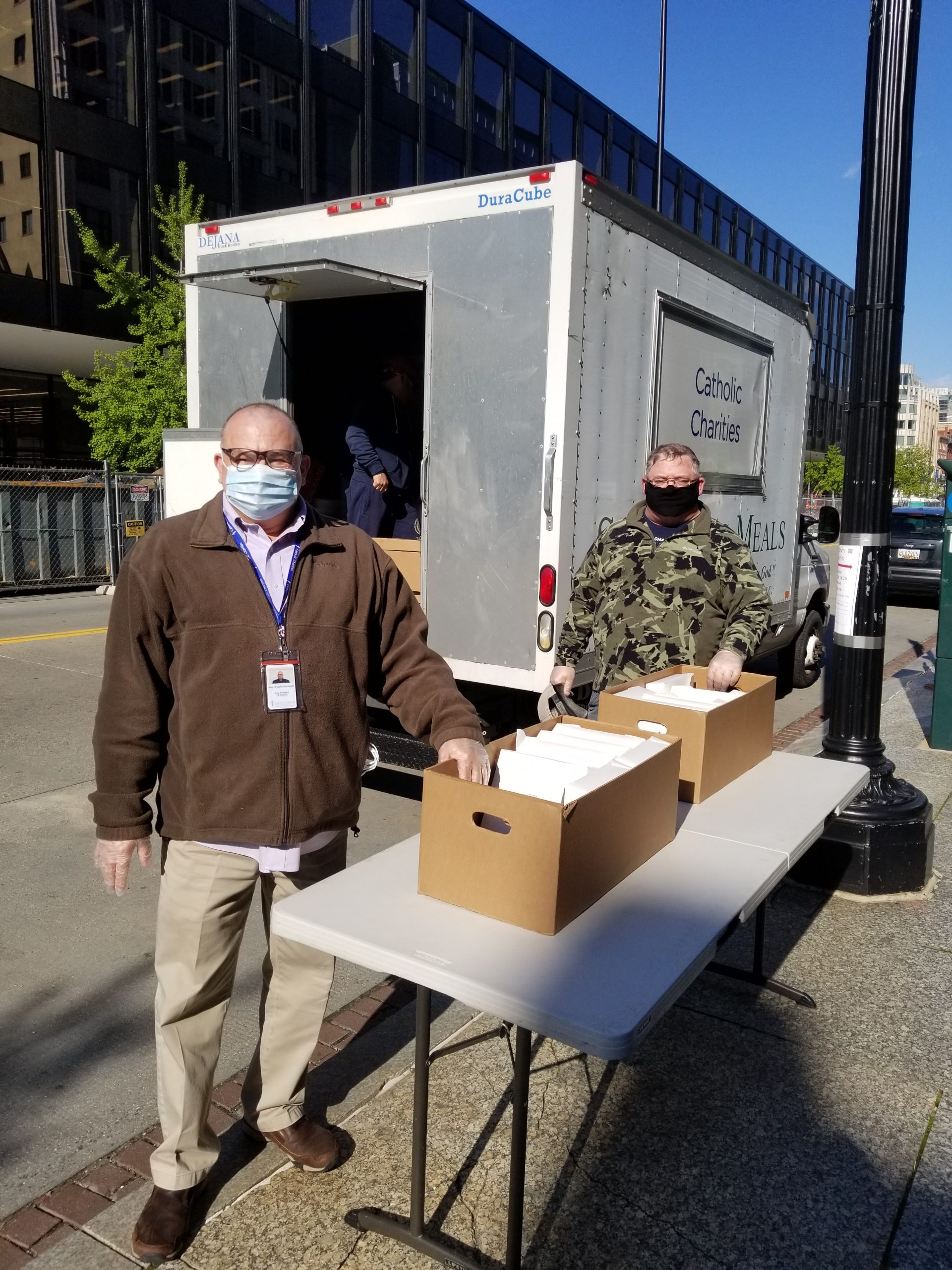 On Wednesday evenings, Father Charles can be found ministering to those who come to St. Maria's Meals along G Street NW. "After being a pastor at several parishes," he says, "I have developed a pastoral heart and a real love and respect for the poor and marginalized."
Father Charles arrived in Washington in 1983 to attend Catholic University Law School. After returning home to New Jersey to practice law for two years, he came back to the District in 1988 and made the decision to enter the seminary. After studying in Rome from 1988 to 1993, he was ordained a priest in Washington by Cardinal James A. Hickey.
The inspiration to join the priesthood came from his early years in Jersey City, N.J. "I grew up in a family that practiced their religion, and I was fortunate enough to go to Catholic schools all my life," he says. "I had a wonderful example of priestly service in my parish priest and became more involved in my faith through a parish retreat. My mother went to daily Mass and prayed the Office of Readings, and she was an inspiration for me as well."
Father Charles says his time as a priest has had many memorable moments, from training altar girls for the first time at Blessed Sacrament as a newly ordained priest to restoring St. Joseph Church on Capitol Hill to serving as vicar for canonical services and then vicar general for the archdiocese.
He also finds inspiration in living in Washington. "I love that it is a capital city, with all the excitement and culture that brings. The museums and monuments are my favorites," he says.
Noting that he has been working on projects with Father John since the early 2000s, he says, "My respect for him and for the incredible job he does led me to inquire about the possibility of working with him again at Catholic Charities."
As for the work ahead, he says of helping Catholic Charities fulfill its mission: "I have worked in the administration of the archdiocese for the past 20 years, so I have a sense of the larger mission of the Church in the Archdiocese of Washington and how it works, and how we are all working to assist the archbishop in his ministry to the people of God here in this local Church."