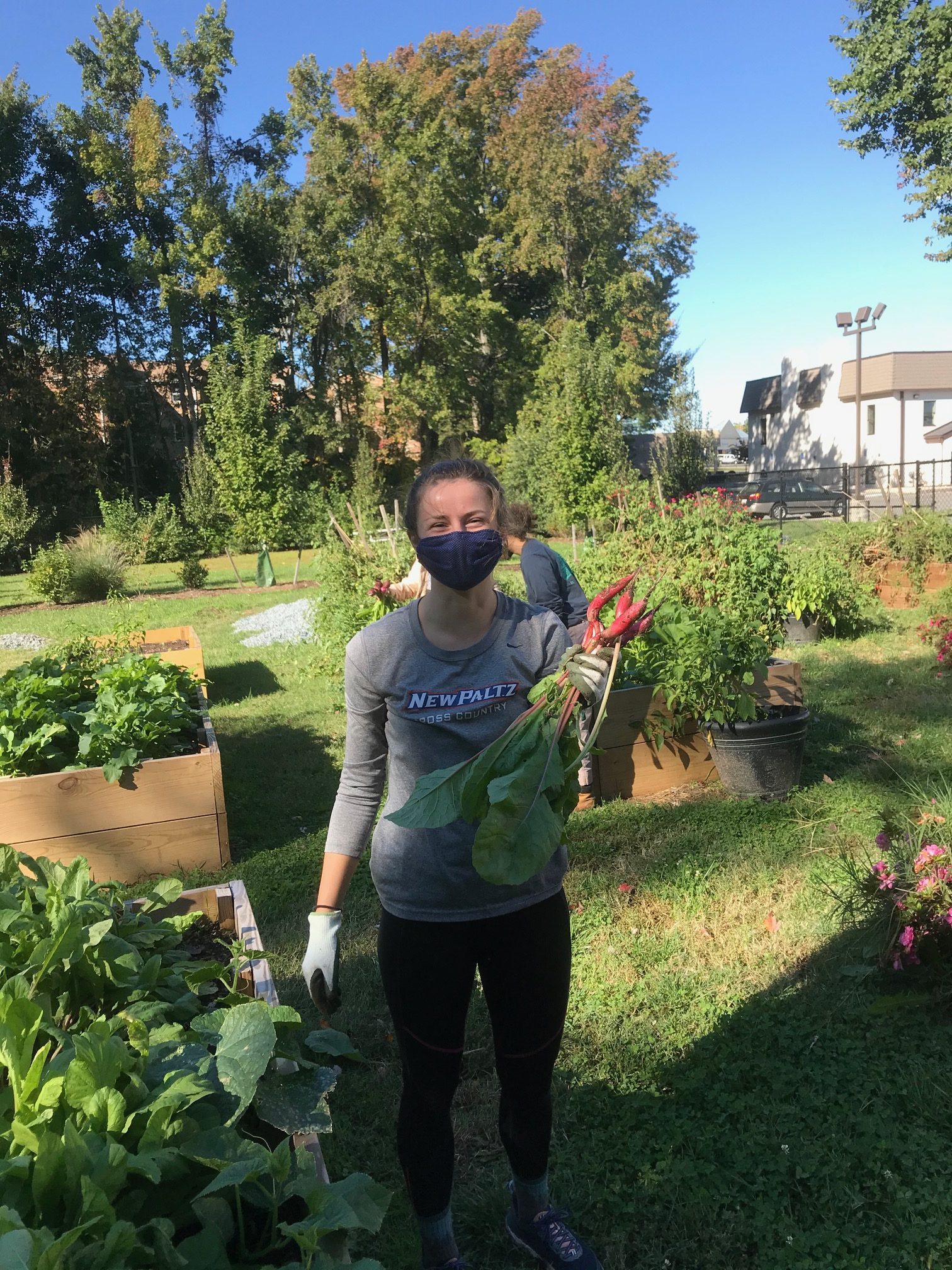 While the pandemic forced us to suspend most of our long-standing volunteer activities, we were able to introduce new opportunities for our community to safely give back to those in need. Tapping into a growing interest in home horticulture, we invited volunteers to lend a hand at our Mona Farm, where they have been able to sharpen their gardening skills while helping to ensure that hungry clients have access to fresh produce.
The urban farm, operated by the University of Maryland College of Agriculture on a former parking lot at our Susan Denison Mona Center in Prince George's County, continues to grow at a rapid pace. Since June, farmers have added six new raised beds to the property, bringing the total number to 18. Of course, adding more beds created more work, which meant the farmers needed more helping hands.
"It's a huge job," said Lynn Brooks, the facility's head farmer and a graduate student at the university. "Having more hands to help is the only way we can get the farm handled. Without the volunteers, there would be much less food going to the people in the community."
Brooks began welcoming volunteers to the farm in August to provide critical support to her team. Wearing masks and maintain social distancing protocols, volunteer farmers assist with a range of tasks, depending on what needs to be done that day. Some of these duties include planting and watering seeds, filling beds with soil, preparing beds for upcoming seedings and harvesting crops.
The vegetables and herbs that volunteers help plant and harvest reach our clients in a variety of ways. They are included in grocery boxes distributed by food assistance programs, and they are featured ingredients in the hot meals prepared by staff in our KitchenWorks program and provided to clients through our St. Maria's Meals weekly food service.
Mona Farm volunteers don't need prior agricultural experience or knowledge to help. Brooks encourages anyone interested in learning about gardening or those with a desire to help people in need to participate. Working from 9 to 10 a.m. on Saturdays, volunteers get a crash course in farming by literally getting their hands dirty, and the Mona farmers are happy to answer questions or provide further guidance.
After only a few months, the project has already attracted several regular volunteers. Many high school students have participated and enlisted their parents' help, creating a unique family experience.
"It took about five minutes of volunteer activity to show me how incredibly valuable our volunteers are to Mona Center Farm," Brooks said. "We have harvested over 1,400 pounds of food so far this growing season. Without our volunteers, most of that produce wouldn't reach the clients because it would have died on the vine."
For more information about volunteering at the Mona Farm, visit the volunteer section of our website.