Gratitude, community and turkeys.
These are three pillars that make Thanksgiving special, and they came together as Catholic Charities hosted turkey and food distributions this week for the many people it serves.
"I've always loved Thanksgiving," Msgr. John Enzler, president and CEO, said, noting that his appreciation for the holiday goes back to enjoying a special meal with his parents and siblings gathered around a table. "To celebrate is a very special time."
Catholic Charities' SHARE Food Network, a community-based program that offers groceries at a discount to anyone, included over 9,000 turkeys in the food that it distributed across the area.
With the help of many donations, the agency was able to provide even more community members in need with Thanksgiving meal staples.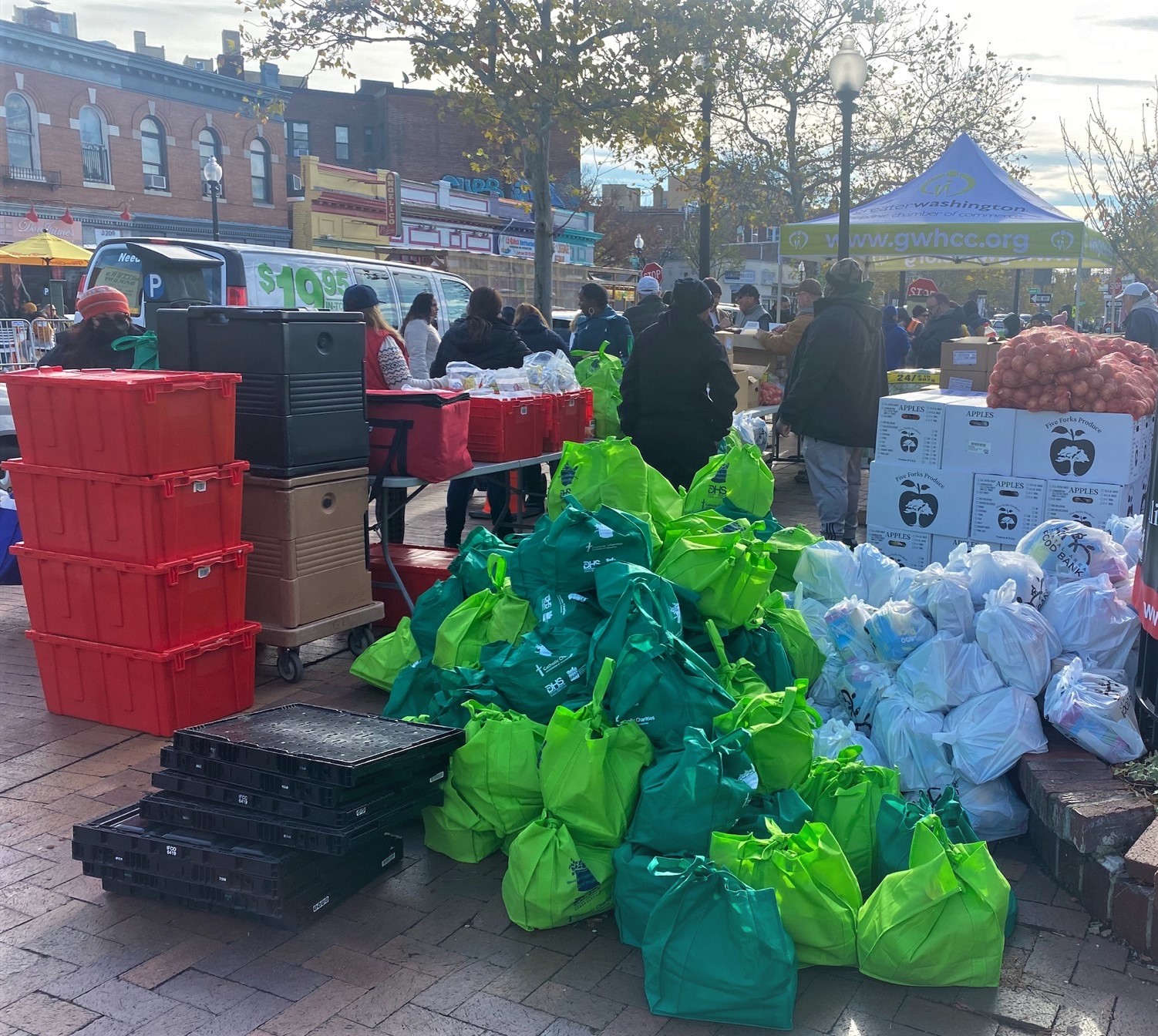 The Spanish Catholic Center food pantry in Northwest D.C. was among the first locations to distribute Thanksgiving food, when it served 300 families on Nov. 16. The distribution commenced at 10 a.m., but families and individuals lined up for blocks across from Lamont Plaza hours before volunteers and staff began handing out food.
Thanks to the Greater Washington Hispanic Chamber of Commerce, each family received a turkey in their package of food.
Thomas Roddy, program supervisor for Catholic Charities' Cup of Joe and St. Maria's Meals, is the logistics onsite manager for the Spanish Catholic Center's bimonthly food distributions. According to Thomas, each individual received almost 60 pounds of food, including a 10- to 15-pound turkey, a five-pound chicken, one pound of beef, one pound of breakfast sausage, two pounds of carrots, three pounds of potatoes, a lunch meal, a 10-pound bag of shelf-stable foods and a five- to 10-pound bag of food for children.
The Spanish Catholic Center's food pantry has been operating at an elevated rate since the beginning of the COVID-19 pandemic. In spring 2020 when COVID-19 broke out, the number of families seeking groceries rose from 150 to 400 a week. Recipients learned about the distributions through word of mouth and are grateful to Catholic Charities for the opportunity to feed their families during difficult times.
One woman picking up food from the Spanish Catholic Center for her family said, "It's a great blessing. We cannot ask anything more of life. I give thanks to God and to good-hearted people."
Ashley Hawken, a member of the Holy Trinity Catholic Church in Georgetown, described how he and others from his parish were assisting those in need this holiday season with the help of Catholic Charities.
Holy Trinity has a migrant support team that aids 20 families from different countries across the world seeking asylum. The parish provides legal assistance, housing, food, education and more to the families until they establish legal status in the United States. Ashley brought food from the Spanish Catholic Center's distribution back to Holy Trinity, where it was organized into individual packages for volunteers to deliver to migrant families.
On Nov. 18, it was the Southern Maryland Food Bank's time to distribute Thanksgiving foods to families in its three counties. The food bank received 400 turkeys from the Maryland Food Bank in Baltimore and other groceries from the SHARE Food Network.
George Mattingly, the food bank's program manager, placed the turkey order in June to ensure as many families as possible would receive the Thanksgiving staple.
The food bank runs year-round, and volunteers assist weekly in packaging food for seniors and school-age children across the area. A dozen volunteers from a State Farm Insurance office provided their assistance to help with the Thanksgiving food distribution.
Some of Catholic Charities' turkey giveaways were the result of a generous contribution from the Poor Roberts Foundation, an organization dedicated to providing Thanksgiving food to those in need.
The Montgomery County Family Center in Silver Spring and the Susan D. Mona Center in Temple Hills each distributed 150 turkeys along with other groceries provided by SHARE on Nov. 22 to families seeking Thanksgiving meals.
The Compass program, a community-based support initiative, distributed another 50 turkeys to families this week thanks to a donation from Catholic University. And a donation of 60 turkeys by NBC4/Telemundo allowed Catholic Charities to help those using our medical clinics and those who are homebound to have a traditional holiday meal.
A special Thanksgiving meal occurred on Nov. 22, as well. Catholic Charities and Pepco partnered to serve several hundred people experiencing homelessness or hunger in the area. Each person received two grab-and-go meals of turkey, mashed potatoes with gravy, collard greens, corn bread and a brownie prepared by the Catholic Charities' KitchenWork program and served by staff and volunteers. After picking up their meals, the guests also received winter coats and toiletry kits from Pepco staff and volunteers.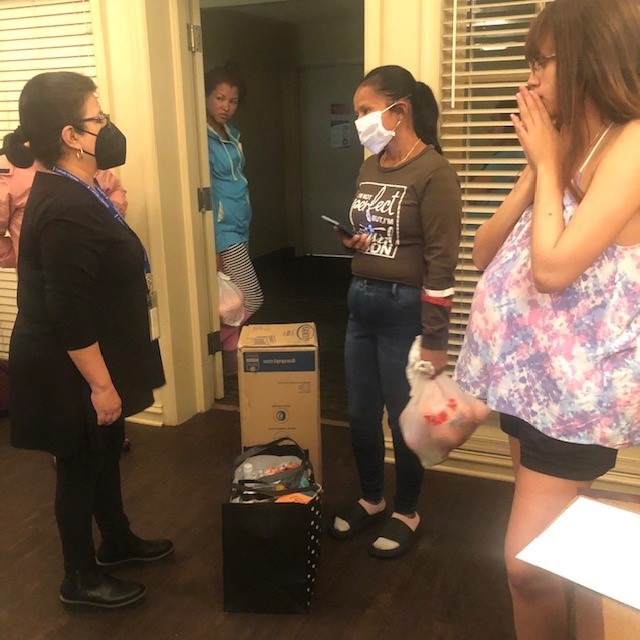 The day before Thanksgiving, members of the St. Rose of Lima Youth and Young Adult Ministry in Gaithersburg marked the holiday by providing meals to migrant families staying in hotels. The church members provided a card containing a brief description of the special meaning behind the holiday — their first Thanksgiving in the United States.
Catholic Charities would like to recognize everyone who contributed to making Thanksgiving special for so many members of the community. Thank you to all of this year's donors who provided turkeys and made the food distributions possible. We wish everyone a Happy Thanksgiving!
Christina DeNovio, a junior at Wake Forest University, was a fall 2022 intern at Catholic Charities.