By Catherine Lee
Several of Christiana Fabare's eight children are struggling with serious medical conditions. She has diabetes, and her husband is being treated for prostate cancer. Their house needs repair. When utility bills are due and the family has little food, Fabare says her faith and Catholic Charities of the Archdiocese of Washington sustain her.
"God reaches out to me through Catholic Charities," says Fabare. The agency provides her with food and other assistance in a way that is caring and compassionate.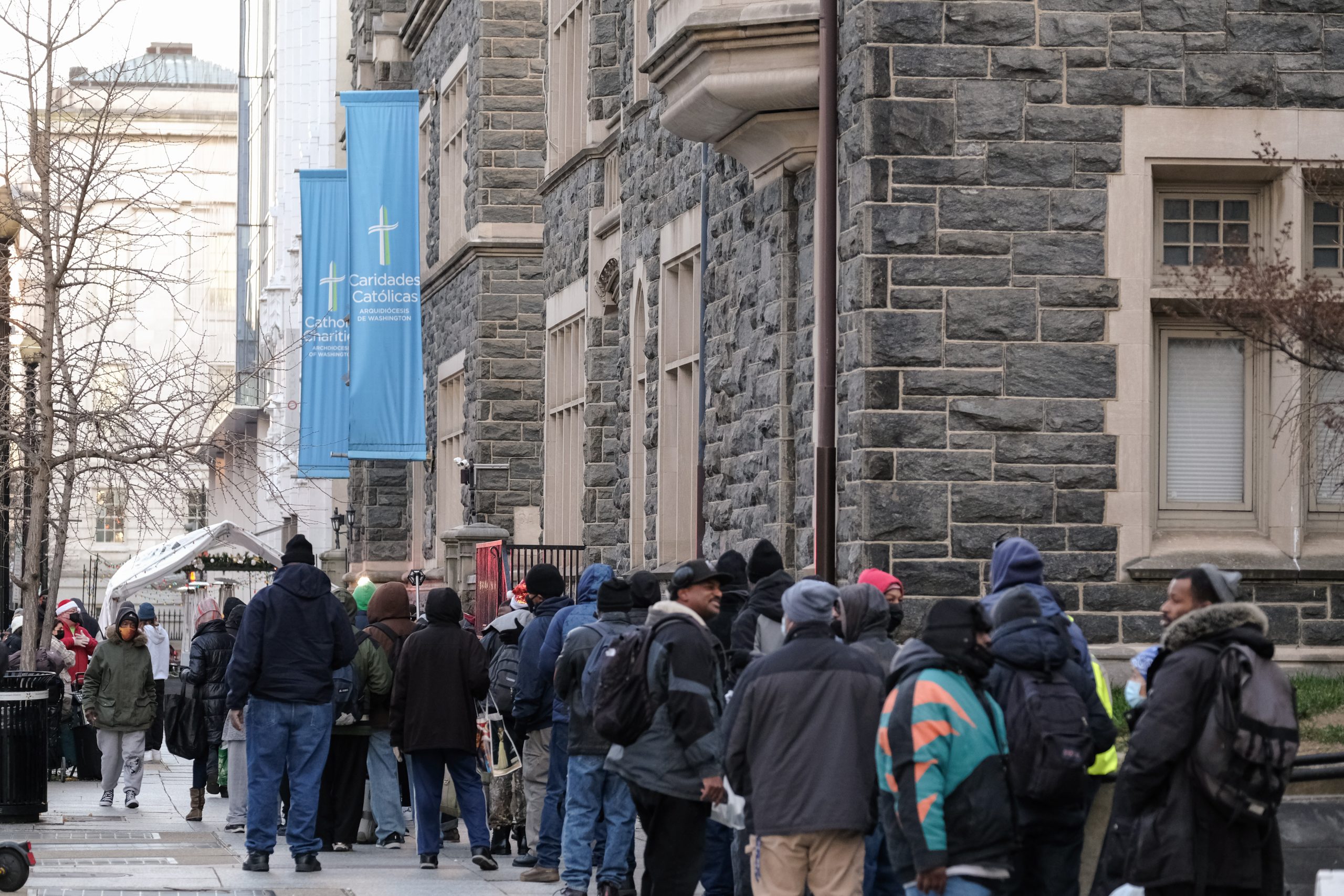 "People at Catholic Charities truly see my pain," says Fabare. "They know the problems are real, they sympathize, and they go out of their way to help."
In the past year, inflation, rising gas and food prices, and the lingering effects of the Covid-19 pandemic on employment have made it difficult for families like Fabare's to make ends meet.
"Food and financial insecurity are much bigger issues than many people realize," says Joe Dempsey, who oversaw Catholic Charities' community-specific food distributions during the height of the pandemic.
"Covid-19 shined a light on the situation, but now we're at more than the 2½-year mark of the start of the pandemic and the needs of our families haven't changed," Dempsey notes. "These issues are not going away."
Over the past year, the agency has pivoted from large, drive-through food distributions to smaller distributions at parishes and apartment complexes for low- and fixed-income seniors and families. Focusing on those most in need of help, Catholic Charities distributed food at sites in areas that included Wheaton, Langley Park and Riverdale in Maryland, and Mount Pleasant and Anacostia in D.C. Catholic Charities also provided food through its three food pantries as well as St. Maria's Meals, Cup of Joe, and the mobile food van Meals & Hope in Southern Maryland.
The food distributions welcomed young mothers with babies and toddlers, grandmothers with their school-age grandchildren and "working guys" who were trying to find jobs. Staff and volunteers gave out boxes of food that include three frozen protein items such as chicken, fish and sausage, as well as fresh fruits and vegetables.
Many Catholic Charities clients lost their jobs during the pandemic and haven't been able to secure new ones. Some can't afford the rising cost of child care in the area, which is among the highest in the country. Low-income families face higher housing costs in Montgomery County, where the average rent is up 8.3 percent since 2019, and in Prince George's County, 8.4 percent for the same period.
The community-specific distributions have provided almost 11,000 individuals with more than 39,500 meals and grocery packages. In total, Catholic Charities' food programs have served 2.9 million meals to more than 70,000 people in the past year. In addition, the agency has provided emergency financial assistance to cover the cost of rent and utility bills.
In April and May of 2022 alone, the agency's Montgomery County Family Center provided $7,200 in emergency financial assistance to 16 families, as well as emergency food to 2,120 families.
Nadia Cisneros, the center's program manager, says she and her team provide emergency funding to families "who have been experiencing the stress of not being able to pay their rent." Now that the federal moratorium on evictions due to the pandemic has been lifted, the center is providing funding so some families can stay in their homes.
Once a month, Catholic Charities makes a delivery to the food pantry run by St. John Neumann Parish in Gaithersburg. Food pantry director Mary Louise Mahoney describes the agency's delivery of organic, high-quality food as a godsend.
"Catholic Charities has been a huge help to the food pantry and the people we serve," says Mahoney. She marvels at the agency's reach, noting that "the arms of Catholic Charities are in a lot of different places in the D.C. area."