By Msgr. Charles Antonicelli
On Wednesdays, I have been spending the dinner hour in front of Catholic Charities' offices on G Street NW, greeting the homeless and hungry as they arrive for St. Maria's Meals.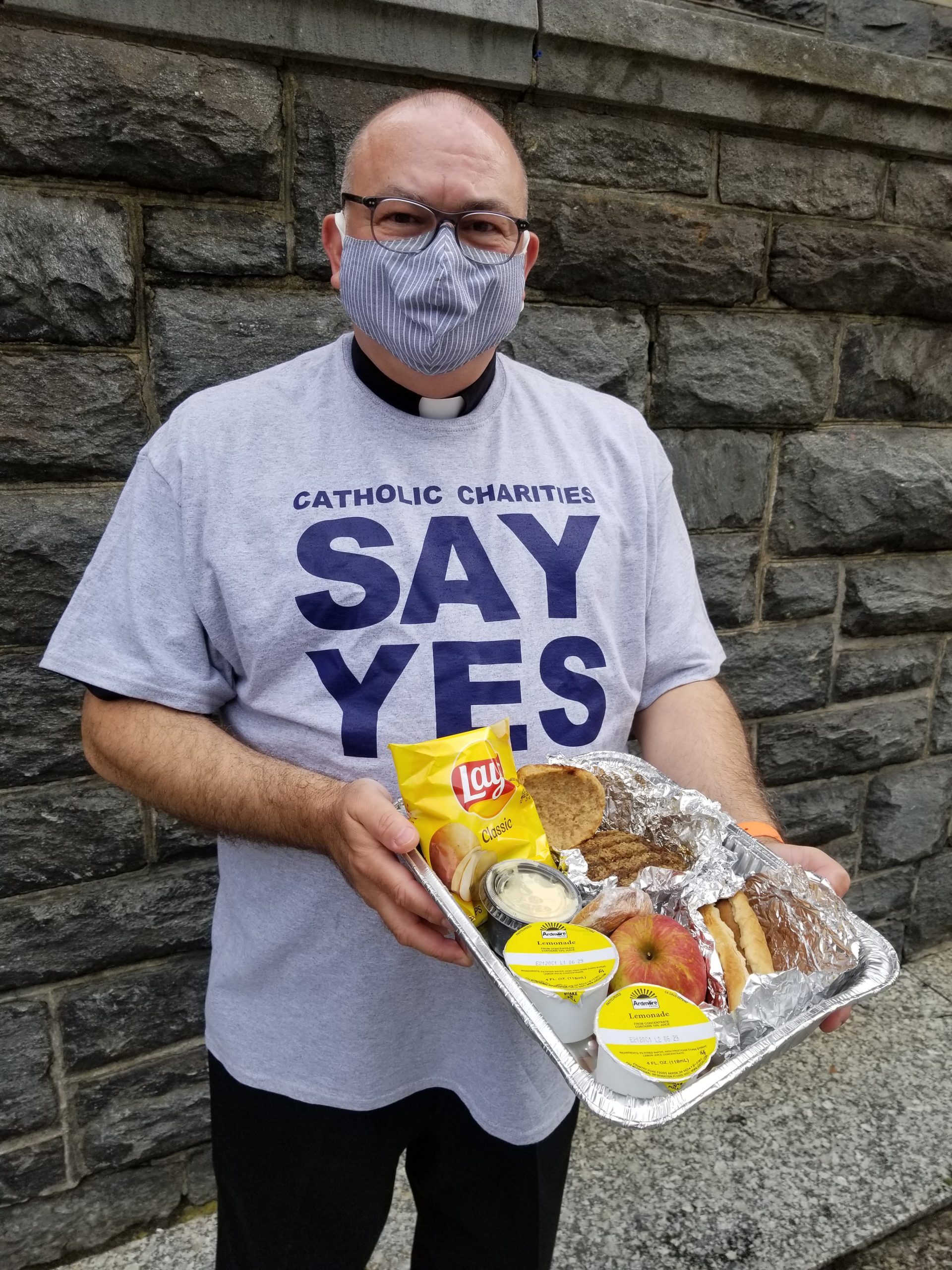 As a pastor, I know that a parish's social service commitment grows a community in ways that cannot be measured. So, I was well aware of the importance of Catholic Charities before taking on the role of vice president for mission. But the experience of participating in St. Maria's Meals has for me brought to life Catholic Charities' mission of caring for those in need in the name of Jesus Christ.
The idea for St. Maria's Meals began in a conversation between two friends – Father John Enzler and a donor, as they were walking down a street and came upon a homeless person in need of food. After much more discussion and an exploration of options, it was decided that Catholic Charities would regularly invite the homeless and hungry to "our house" – the Hickey Center – for a meal. With that, the idea of St. Maria's Meals was born. The first meal made by volunteers and staff was served in front of our building in January 2012, and the program has expanded from there.
Now during the pandemic, our low-barrier shelters are open 24/7 and serve meals. Yet, we still serve up to 75 people at "our house" each Wednesday evening.
Some of those living on the streets of D.C. arrive for dinner early, having partaken in the free meal each week for years. Although some conversation has been curtailed because of social distancing, the regulars like to talk, and I've gotten to know them. Others are all business, take their meal and move on. Most of those lined up for dinner are men, although the ranks include women and, occasionally and sadly, children who accompany a parent.
I begin each dinner service with a prayer and then join staff members and volunteers in handing out meals.
Handing out a meal is a brief encounter. It's long enough, though, to see suffering on some faces. But with the meal comes a bit of relief and a lot of gratitude. With every meal we give out we say, "God bless you," and most recipients respond with a "God bless you" in return. It is a reminder that all we have and all we do start and end with our gracious God.
It is in St. Maria's Meals — and all Catholic Charities' programs — that our mission comes alive.
Hearts are moved by service and the involvement in the needs of others. Certainly, mine has thanks to Wednesday dinners.
Msgr. Charles Antonicelli is vice president for mission at Catholic Charities and pastor of St. Patrick Catholic Church in Washington.