Each of our more than 3,200 volunteers makes a difference in the work of Catholic Charities and the lives of people in need. These dentists, doctors, lawyers, interpreters, ESOL tutors, tax preparers, mentors, food distributors, and many others contributed more than 74,800 hours of service last year.
Among these many essential contributors to Catholic Charities' mission are ten especially noteworthy volunteers. These extraordinary people were honored on April 13, 2023, in a Caritas! ceremony held at the Martin Luther King Jr. Memorial Library.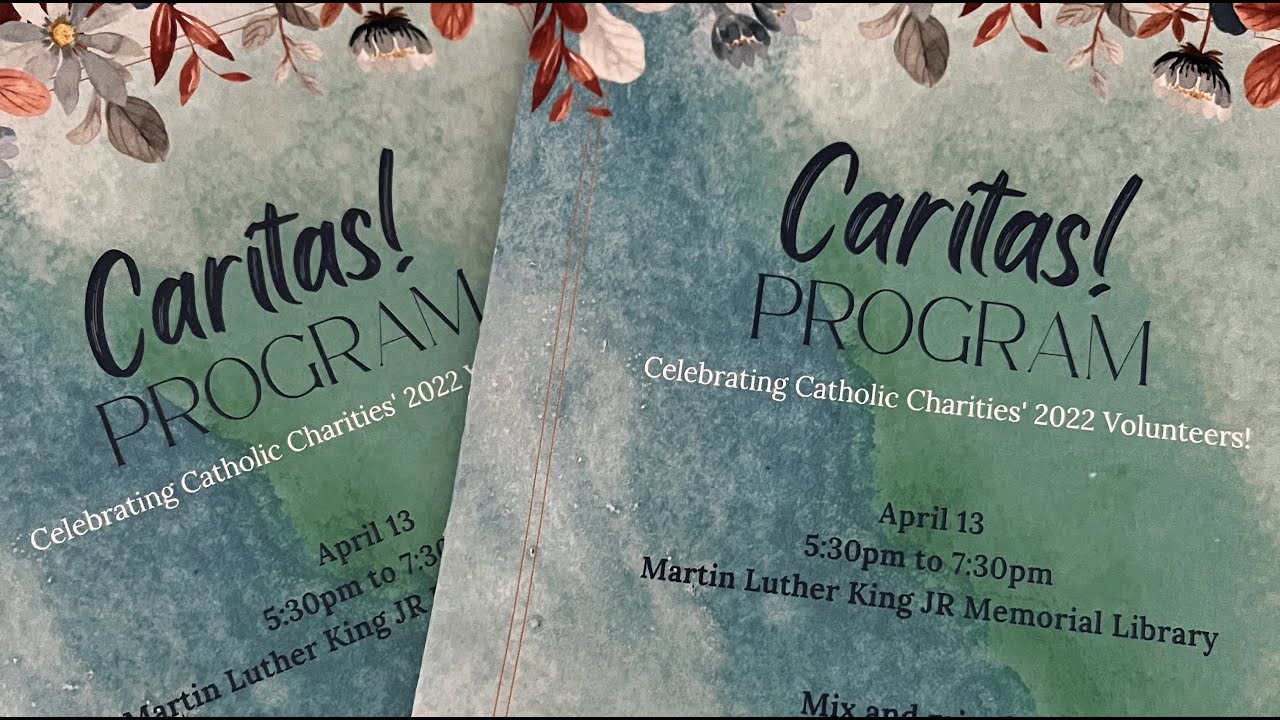 CEO Msgr. John Enzler welcomed guests to the ceremony to celebrate "the gift of ten people who by their actions and leadership make a difference." He described Catholic Charities as a culture of caring and volunteers as those who are "standing in solidarity with people and working with us to improve their lives."
"Our volunteers are truly special. Their commitment to supporting the people we serve, and our staff is more than inspiring something. The honorees exemplify Caritas! or 'charitable love'. We are grateful to have such exceptional people volunteering in every aspect of our agency's work." said Maggie O'Neill, director of volunteer engagement.
The honorees were: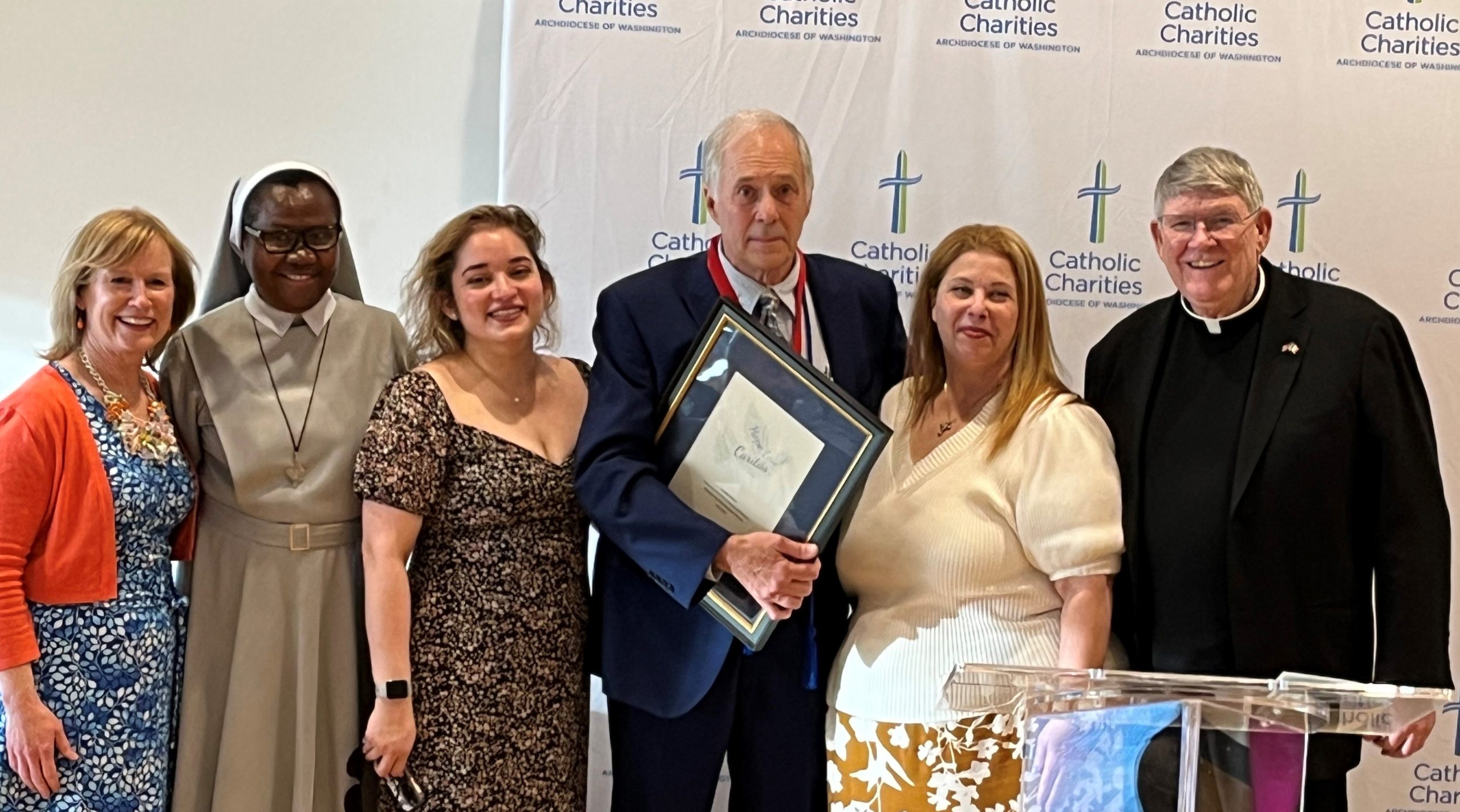 Dr. Robert Breiner, who received the Msgr. Baroni Caritas! Award for Advocacy. Dr. Breiner, a podiatrist, cares deeply for the overall well-being of those we serve. He has been committed to caring for patients in the Catholic Charities Health Care Network for many years through his practice office in Annandale, Va, and more recently at our clinic in Silver Spring. Dr. Breiner engages the clinic staff to create a font of caring for their patients. For him, it is about freeing people from pain so they can return to their usual life activities.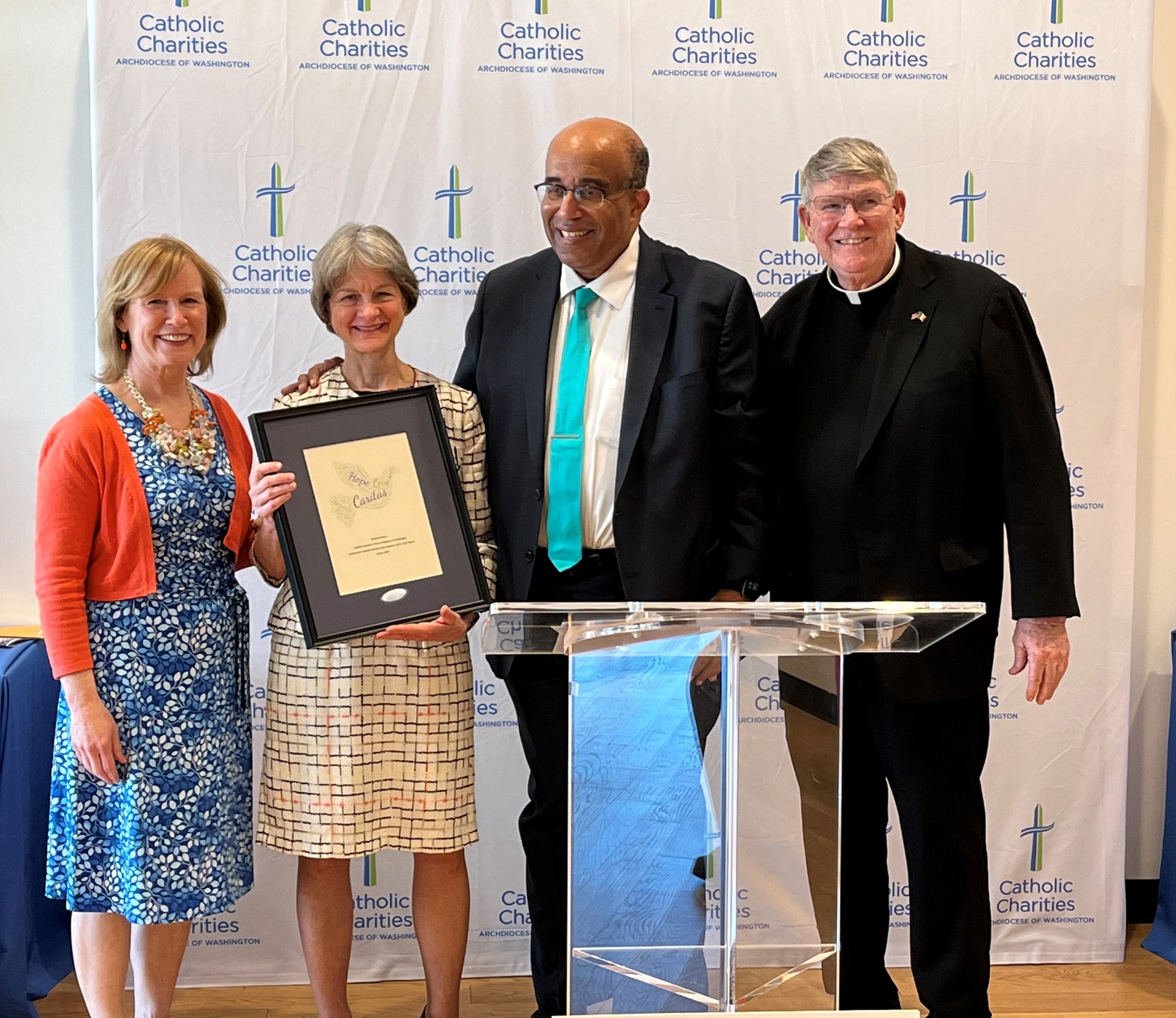 Elizabeth Meers, volunteered for decades in a variety of important roles so was nominated by the agency for the Catholic Charities USA Volunteer of the Year Award. Meers serves the Catholic Charities Legal Network as a volunteer on the program's intake line, helping prescreen low-income callers requesting legal assistance, as a leader by serving as the former chair and member of the Legal Network's Advisory Council, and as a volunteer recruiter. Her efforts strengthened the organization and advanced the work of the Legal Network. Meers also serves on the Catholic Charities Board of Directors.
Velma Venable, who received the Father John O'Connor Caritas! Award for Empowerment. Venable is a dedicated volunteer at the SHARE Food Network, who helps guide new volunteers and assists with food distributions. Venable is punctual and dedicated to her work; her consistent participation is a testament to her commitment to those she serves. As she says, 'The people need to eat!'
Connie Faltynek received the President's Lifetime Service Award. Faltynek, who served as a pharmacy volunteer at the Volunteer Medical Clinic, has been a vital source of leadership during her time at the clinic. She is retiring after 11 years during which she strengthened and managed the Medication Assistance Program. In this special video, she shared her knowledge of Patient Assistance Programs to benefit people with diabetes who need access to insulin.
Individual divisions of programming also awarded honorees. They were:
Magdalena Diaz de Leon, who received the Family, Parish and Community Outreach Department Volunteer of the Year Award. Diaz de Leon designed a virtual Volunteer Income Tax Assistance process through our Financial Stability Network that assisted our Newcomer Network clients to obtain Individual Taxpayer Identification Numbers for undocumented individuals and families. Because of her work, Newcomer Network clients can file tax returns to demonstrate good moral character to immigration authorities and access other benefits. Diaz de Leon, as an immigrant from Uruguay, eases the anxiety of the people she helps as she truly understands what it means to be a newcomer in the United States.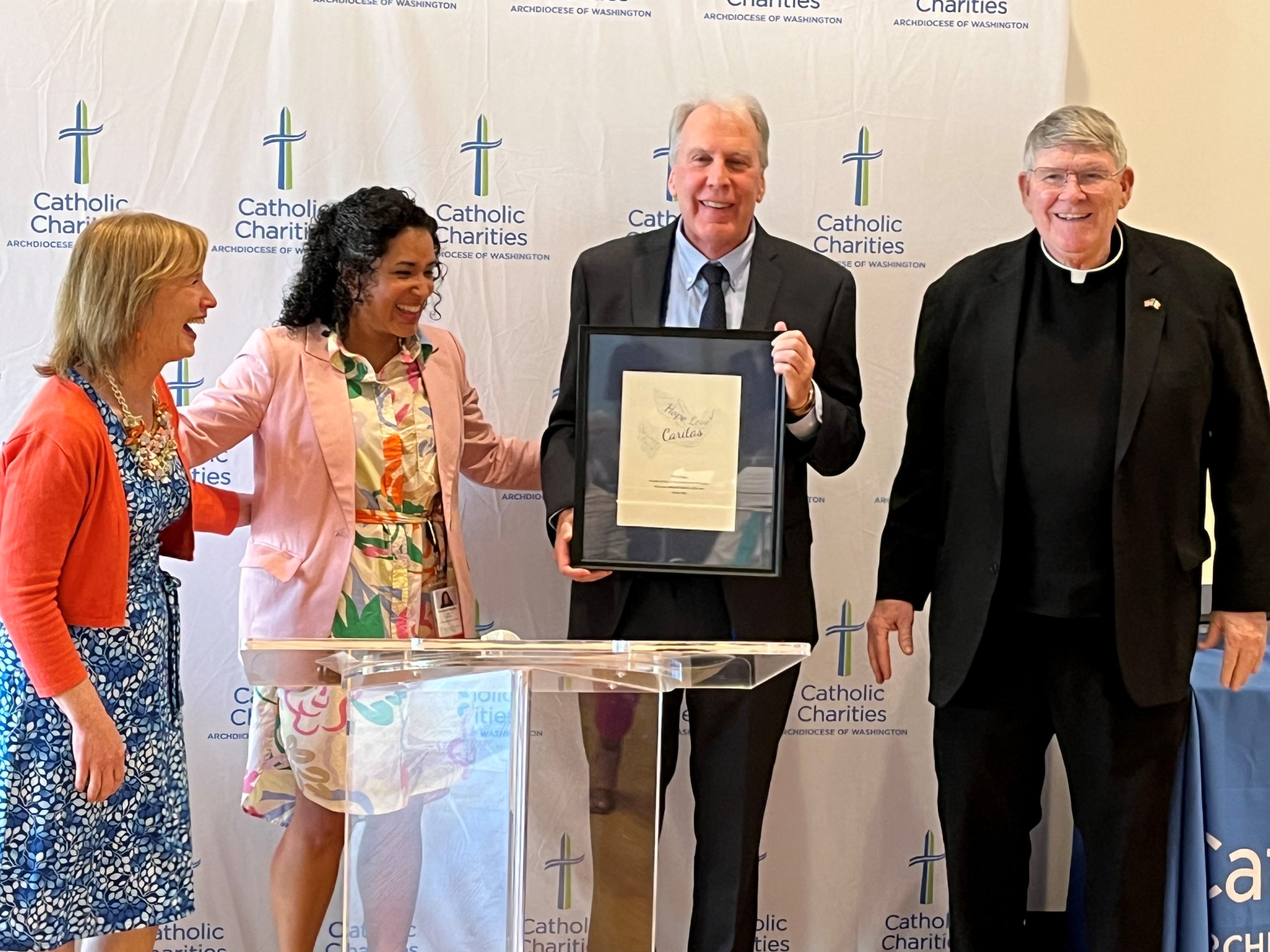 Tim Mulligan, who received the Newcomer Network Volunteer of the Year Award for his work as a pro-bono attorney for Immigration Legal Services. Mulligan is known as an energetic, even tireless advocate. He treats his clients with the utmost respect and goes above and beyond his role as an attorney to find and mobilize resources to ensure his clients can adapt to life in the United States and be successful. By taking on the representation of minor newcomers in need, Mulligan strengthens the lives of those most vulnerable in our community.
Vera Navarro, who received the Adult and Children Clinical Services Volunteer of the Year Award for her work as a nurse volunteer at the Volunteer Medical Clinic. Navarro is entrusted with the care of the clinic's most fragile patients and the training of new volunteers from the University of Maryland and other schools, as well as triaging our patients' medical needs. She goes above and beyond to ensure that we not only address clients' medical needs to offer humanizing emotional and spiritual support needs as well.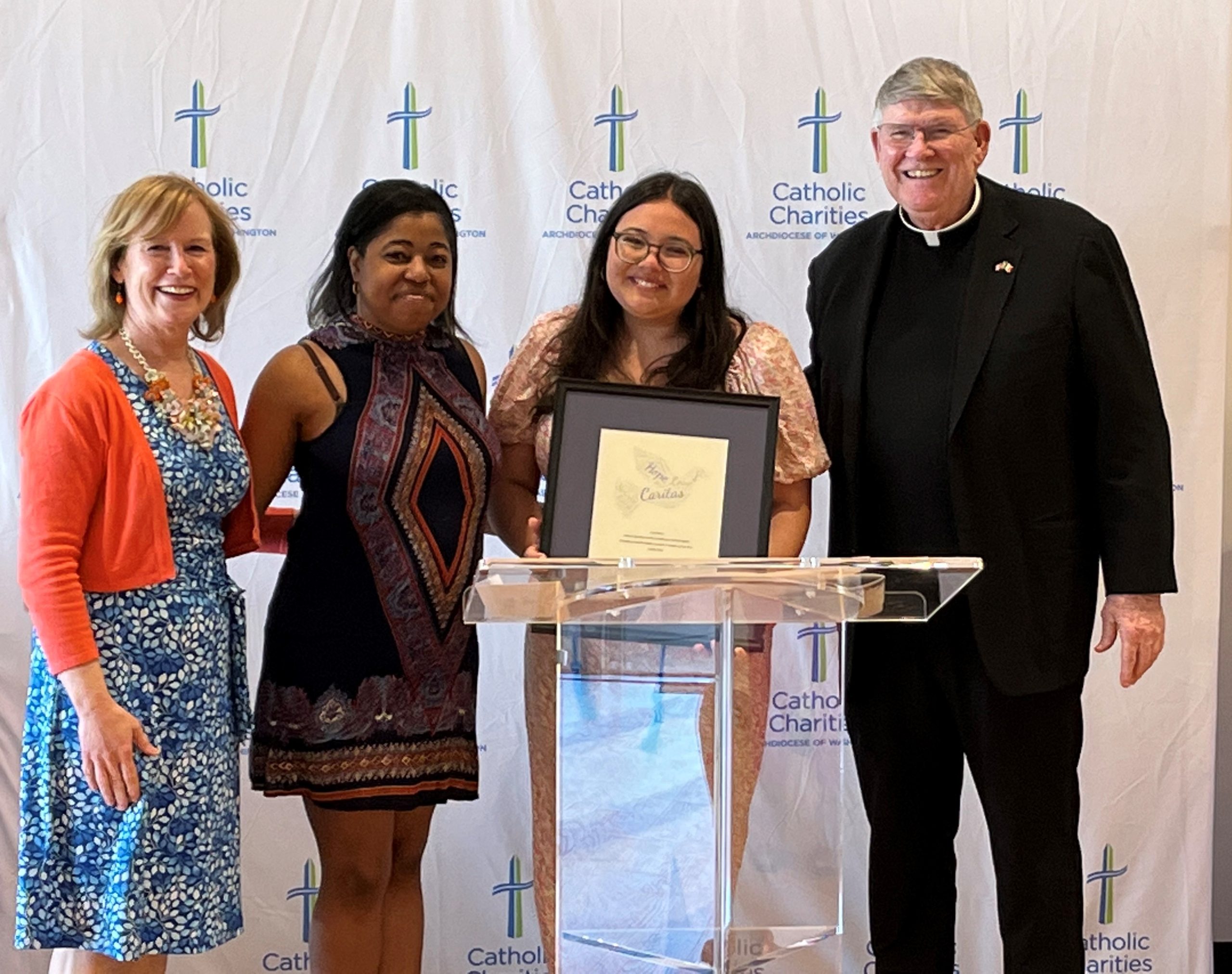 Julia Perez, who received the Developmental Disabilities Services Volunteer of the Year Award. Perez, while a student at The Catholic University of America, created a newsletter for families served by the department, decorated bulletin boards, facilitated activities with our participants, and made sure that participants' work was displayed and shared for all to see. Perez exhibited empathy, a genuine desire to provide children with premium services and inspired those around her.
Chris Saah and Don Wilson, who received the Housing Department Volunteer of the Year Award. Support from Saah and Wilson places two Howard University clinical psychology graduate student in 10-week internship placements each summer. The interns assist case managers in Catholic Charities' housing programs. The efforts of Saah and Wilson make a difference to the student interns and the agency's programs and clients.