By Msgr. John J. Enzler
Over and over this spring, I was reminded of the phrase in Matthew 25 "I was a stranger, and you welcomed me."
Since mid-April, we have been a friendly, welcoming face to 355 travelers on long and difficult journeys to the United States from Colombia, Angola, Venezuela, Cuba and other countries.
After the governor of Texas announced that his state would bus migrants arriving at the border to Washington, D.C., we were on the street to welcome those who arrived on the first three buses.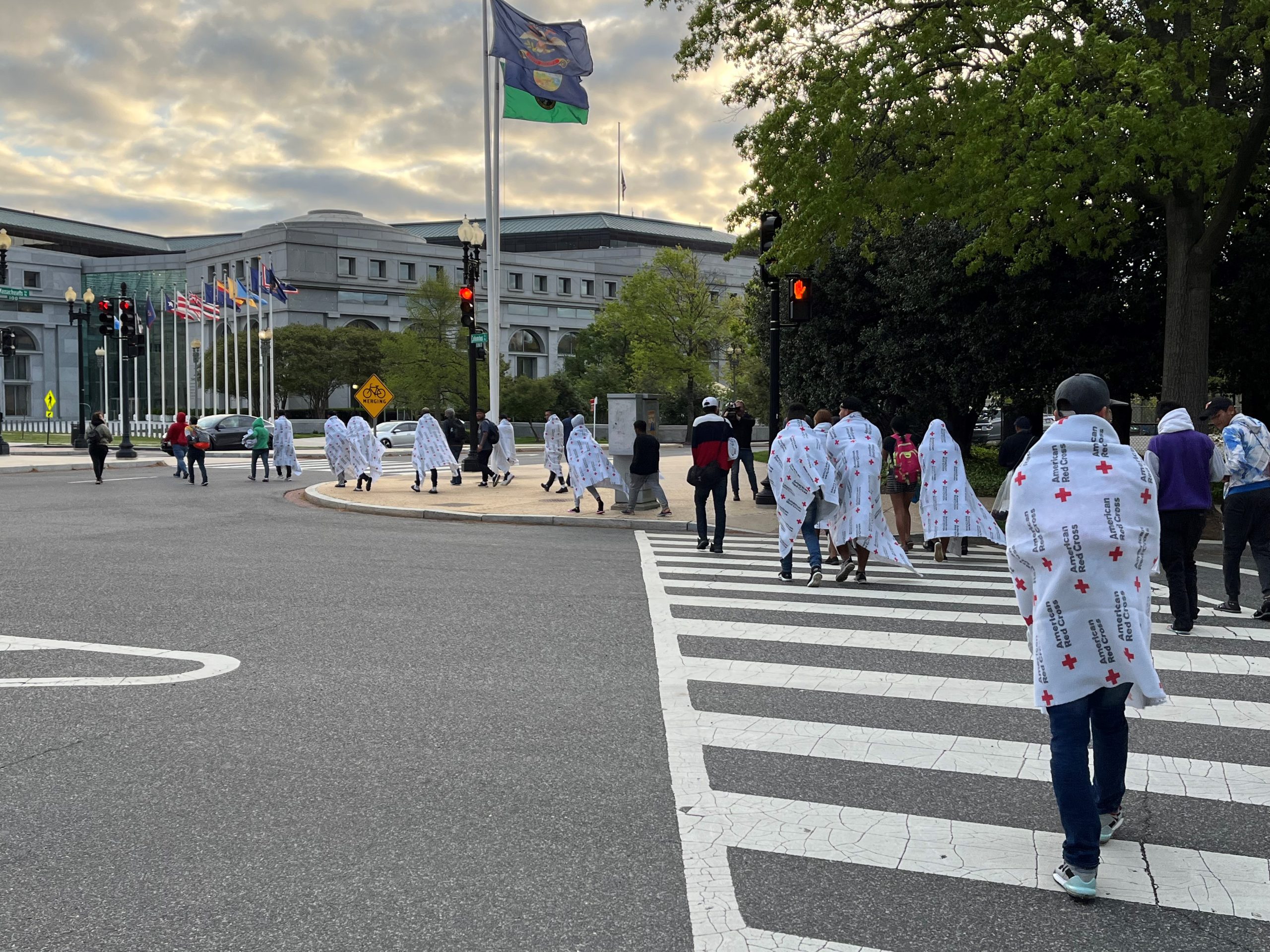 Since Catholic Charities' beginnings more than 90 years ago, our mission has been to respond as best we can to every human being who comes our way. So, in welcoming these weary travelers, we asked: Did they need food after a 30-hour bus ride? Were they dressed appropriately for the weather? Were the babies in need of diapers? Did the woman who was pregnant need medical attention?
From those first arrivals in April until June 8, our staff served as front-line workers assisting migrants, meeting buses one day a week and providing travelers with food, clothing, medical care and information on immigration legal services. When Arizona began sending buses later in the spring, we responded to those arrivals as well.
For more than three-quarters of arrivals, D.C. is not a final designation. They have moved on — often with our financial assistance and coordination — to Florida, New York, Michigan, Maine, New Jersey, Illinois and Kentucky, among other places.
Sister Sharlet Ann Wagner, executive director of the Newcomer Network, has led our cross-department response. "We are operating in the spirit of the gospel and serving the poor and most vulnerable," she says.
In doing so, Catholic Charities has collaborated with SAMU First Response, Central American Resource Center (CARECEN), Mutual Aid and smaller organizations, building good will among nonprofits.
But our ongoing response was not sustainable from a staffing and resource perspective, given our many other programs and services. We strongly encouraged local and federal government to step up.
On June 8, we transitioned from being a leader in the emergency response to assisting SAMU, which took on the sole leadership role. With a Federal Emergency Management Agency grant, SAMU opened a respite center in Rockville. It also hopes to identify a staging center at Union Station, where Texas buses arrive. Passengers who cannot travel onward immediately will be taken to Rockville, where they can shower, change clothes and rest while plans are made for the remainder of their journey.
As part of our continuing commitment, we periodically will send a team to assist at the respite center or at the Union Station staging center.
In all that we have done, our goal has been to ease anxieties and provide a little dignity and respect in an inhumane system and situation.
One of the migrants who arrived in D.C. this spring was pregnant. She was hungry, tired and in need of help after the days-long bus ride from Texas.
After receiving care and assistance from Catholic Charities, she traveled on to New England to join family and friends. When she reached them, she sent a WhatsApp message in Portuguese to one of our staff members: "Muito obrigada por tanto amor."
"Thank you so much for so much love," it read.
More than 40 members of our staff have shown "so much love" to the arriving migrants — as Matthew 25 inspires.
Msgr. John J. Enzler is president and CEO of Catholic Charities.