By Catherine Lee
Five years ago, as an immigrant traveling to the United States, "Liliana" was excited about starting a new life. Engaged to be married, she was looking forward to her wedding and having a baby. But after she was married, life took an unexpected and frightening turn.
Liliana's husband started hitting her. She became pregnant and had a baby girl, but the trauma she had experienced made it difficult for Liliana to bond with her daughter. At the same time, she was trying to regularize her immigration status with the help of Catholic Charities, seeking relief through special provisions in the law designed to assist domestic violence survivors. But gathering the documents needed to verify the abuse she had suffered was painful because it triggered her trauma.
Liliana was referred to Catholic Charities' innovative Newcomer Network program, which provided her with the services she needed to improve her mental and physical health and gather the documents required for her immigration case.
Now Liliana says she feels hopeful about her future. Without the program, "I would be back in my country," she says. "Now I feel like I can care for my daughter, like I have the mental capacity to manage my life."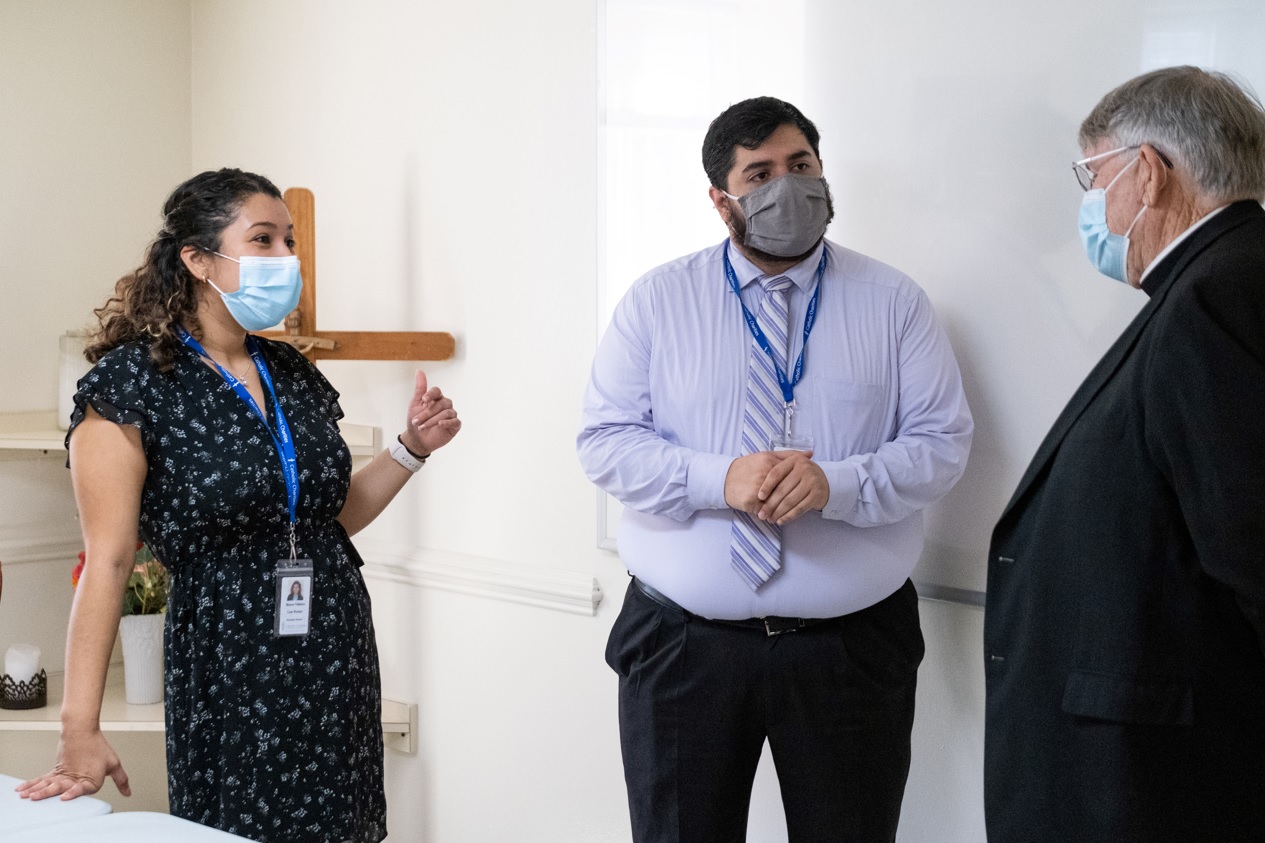 Launched in December 2020, the Newcomer Network is the result of a very generous commitment from the A. James & Alice B. Clark Foundation. The multiyear investment helps provide legal, health care, housing, employment, education and other social services to individuals in Montgomery and Prince George's counties, where immigrants make up 40 percent of the D.C. region's growing population.
Based on a holistic, client-centered model, the program comprises immigration legal services, which Catholic Charities was already offering, as well as services provided by a team of trained case managers called "navigators." The Newcomer Network also partners with two Maryland parishes — St. Camillus in Silver Spring and St. Bernard of Clairvaux in Riverdale — offering services in settings that are familiar to clients.
Between December 2020 and June 30, 2021, the Newcomer Network provided navigator and legal services to 1,235 new clients. Headquartered at the Catholic Charities Center in Silver Spring, the program is rooted in Catholic social teaching and the Church's belief that "newcomers seeking refuge should be welcomed," says Sister Sharlet Ann Wagner, executive director of the Newcomer Network.
Wagner, an attorney who served as an intern with Catholic Charities' Immigration Legal Services team in the late 1990s, says that "when our clients trust us with their hopes, dreams, trauma and travels, it's important to walk with reverence. When they open the door and we enter their lives, we're walking on holy ground."
Among the clients helped by the Newcomer Network was a young man from Guatemala. Granted asylum because of trauma that he suffered in his native country, he was trying to get a green card, which would enable him to live and work permanently in the United States. A high school graduate, he wanted to get a driver's license so he could take classes at a community college. The program helped him with his immigration case as well as his applications for a driver's license, community college and financial aid.
"Often when we start working with clients, they don't have much hope," says Wagner. "In fact, it's more likely that we see despair. Our vision is that they'll come out of the program feeling more confident in their ability to build a good life in this country for themselves and their families."