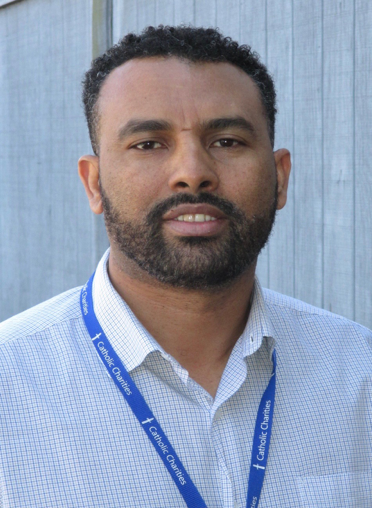 Catholic Charities of the Archdiocese of Washington operates three emergency shelters for men and two emergency shelters for women. The men's shelters, with a total capacity of 890, are New York Avenue, located in Northeast Washington near the Hecht's Warehouse; Adams Place, located off New York Avenue in Northeast Washington, and 801 East, located on the campus of the former St. Elizabeth's Hospital on Martin Luther King Avenue in Southeast Washington. Harriet Tubman is the larger of the women's shelters, and it is located on the campus of the former DC General Hospital near RFK Stadium. Nativity, located on upper Georgia Avenue is the other women's shelter. The women's shelters have a capacity of 100 and 20. In addition tothese shelters, Catholic Charities operates hypothermia shelters when nighttime temperatures are expected to fall below 32 degrees.
Dormitory Room at the 801 East Men's Shelter – Bunk Beds and Naugahyde Mattresses
Catholic Charities receives most of the operational funding for the emergency shelters through indirect contracts with the District of Columbia Government. It costs nearly $5.3 million per year to operate the men's shelters. In addition, with the exception of Nativity, the shelters are in re-purposed buildings owned by the District of Columbia, which also provides security services. As a result, Catholic Charities has less-than-optimal control of the shelters, and the structures themselves present issues as none were originally constructed as shelters. For example, New York Avenue has many smaller rooms that makes surveillance difficult.
Each shelter has a daily rhythm with a "day" and a "night." In general, the shelters are open from 5 pm to 9 am. In most cases, clients are supposed to be out of the shelter by 9 am, weather and their health permitting. Zelalem Zemichael, pictured at the left, is director of men's shelter operations. This is what he encountered on a typical "day:"
7:00 am: Clients start leaving for the day.
7:20 am: Received calls from two senior program managers, who called out sick.
9:00 am: Reported at New York Avenue to oversee shelter operation as the manager was out sick. Two clients reported need for ambulance. Program assistant on duty was monitoring clients until EMS arrived. Both clients transported to hospital; received and reviewed Incident Report.
9:30 am: Reached out to 801 East Shelter administrative assistant and reviewed list of purchases and identified wrongly coded items and made corrections.
11:00 am: Reviewed materials from a job applicant.
11:30 am: Had a short discussion with manager of social work at New York Avenue to follow up concerning updated list of clients that was only 80 percent completed. Reinforced the email sent by the manager of social work explaining the need to complete the project.
11:45 am: Reviewed purchase orders.
12:00 pm: Dealt with personnel issue.
12:30 pm: Checking email and identified time-sensitive request from Department of Human Services regarding status of case-management staffing. This request needed a response before 3 pm. Acknowledged the team for sending the information on timely manner.
1:45 pm: Made a through walk-through of facility and identified items program no longer uses and/or outdated. Assigned program supervisor to coordinate with facilities department for bulk removal.
2:30 pm: Discussed status of the video camera that was not working properly.
3:00 pm: Reviewed case of a client who needs a higher level of care than program can provide.
3:30 pm: Took short lunch break
4:00 pm: Personnel work
5:00 pm: Left office but continued to check emails, texts, and calls from programs in case of emergency or an urgent inquiry. Looking forward to a peaceful and restful weekend for clients and staff, as the weekends tend to be tragically eventful including many overdose incidents, even death of clients at times.
"Clients start queuing up around 4:00 pm. It is a common occurrence to call for an ambulance as a client in line may overdose. Unfortunately, calling EMS happens almost every day."
– Zelalem Zemichael –
Larry Gooch is a program supervisor at the 801 East Men's Shelter. He supervises the 3-11 and 11-7 shifts that consist of 10 program assistants. Each shift has, on average, four staff per shift. A typical "night" consists of the following:
3:00 pm: Arrive on site.
3:10 pm: Conduct facility walk-through and check to make sure all staff is on site and in their assigned area.
3:20 pm: Speak with senior program manager and director for any updates or concerns that need my immediate attention.
3:50 pm: Check to see if the evening meal has arrived; check emails and reply.
4:15 pm: Check on staff and security to make sure that we are ready for the intake process at 5:00 pm and do another walk-through to talk with clients on bed rest and work-bed program about any of their concerns.
5:00 pm to 11:00 pm: Action Time
Making myself available to clients and staff during the intake process to assist in issues and situations as they arise.
Moving throughout the facility's dormitories, dayroom, and dining area interacting and engaging clients. Resolving disputes, de-escalating conflicts, and maintaining a peaceful environment for the clients.
Alerted by a client that another client is down on the floor in the restroom. Client is lying on the floor non-responsive to my verbal prompting. I have someone immediately call 911 for medical assistance. I also assess the situation and depending on the circumstances that could be possible opioid drug overdose. I will administer NARCAN a nasal spray for opioid overdose reversal.
Assisting case managers with locating clients. Identifying clients who are in need of case-management services.
Disseminating relevant information to clients about upcoming events concerning services available to them.
Providing support and guidance to staff and security personnel on practices and procedure as it relates to the homeless population.
Respond to any and all emergencies that occur after hours at the shelter.
Making sure that staff coverage is available for 3-11 and 11-7 shifts.
Recent funding now allows for case-management services seven days each week from 6:00 am to 10:00 pm. There is one case manager for every 30 clients. Clients are free to choose whether or not they want to use these services.
10:00 pm: Lights out. While officially "lights out," activity continues. Clients get out of bed to use the restroom. Other clients step outside for a smoke, which sometimes may be marijuana. Yet others step outside for a drink, which sometimes may be alcoholic. Inside, staff may be called upon to adjudicate disputes about snoring. Movement during the night does not stop. Additional clients may arrive late in the night when New York Avenue and Adams Place are at capacity or as the result of outreach. About one-quarter of clients are awake and up by 5:00 am.
Night is drawing to a close and a new day starts.
Blog was originally written by: Joe McKenzie, Homeless and Housing Services Volunteer