Msgr. John J. Enzler's column was first published in the Catholic Standard.
I just returned from a rare month-long vacation. I finished my full-time work as president and CEO of Catholic Charities on June 30, and I hit the road a few days later for four wonderful weeks relaxing at various destinations and visiting family and friends.
I would have enjoyed it anyway, but I could relax even more knowing that my successor of the largest social services agency in the region is a skilled and faith-filled servant leader who can help Catholic Charities continue to help thousands of people each year.
We began an extensive search to find my successor last year. This process was led by our former board chair, Kevin Virostek, our new board chair, John Veihmeyer, and a wonderful committee made up of board members, archdiocesan leaders, and longtime supporters.
About 100 people applied for the job, and the process included interviews with more than 350 people, including references. All the applicants had gifts and skills to bring to the ministry, and our team worked hard to eventually identify the top 18 they felt were strong fits. From there, the team narrowed it down to the four they felt had the right skills and abilities to lead the agency.
We were blessed to have so many good candidates, but through it all, one person continued to stand out: Jim Malloy. Jim came to us as a local boy who grew up in Silver Spring at St. Bernadette's and then St. John the Baptist parishes. He attended St. John's high school in D.C. before going on to the United States Naval Academy and a 36-year career in the Navy.
Most of those years were in the Mideast. He commanded two ships, a fleet, and eventually served as deputy director of U.S. Central Command. He did great work serving and protecting our country for nearly four decades in faraway places.
Jim realized a few years ago that when he retired from the Navy, he did not want to go work for defense contractors like Lockheed Martin or Boeing. Nor did he want to go to K Street as a lobbyist. He wanted to serve.
During our interviews with him, he talked about his time at St. John's and how the Christian brothers taught him what it means to be a servant leader, someone who puts the needs of others above their own. This was Jim's philosophy during his military career, and he retired last year with the rank of vice admiral.
In addition to being impressed with experiences, accomplishments, and skills, we found him to be a man of real faith who wants to serve God and neighbor. He lives his faith as a strong Catholic who, along with his wife and three sons, have been members of a parish in Ellicot City in recent years. Military chaplains and others in ministry that we talked to all urged us to strongly consider Jim for this position.
One story really resonated with me and indicated the kind of person we were getting. Jim told us that he went to New Orleans after Hurricane Katrina struck and felt "anger" in seeing how people were not being helped as they should have been after such a terrible disaster. That experience was so poignant for him that he decided to get a degree in disaster management while still serving in the Navy. He's a go-getter who sees a problem and tries to solve it. He is willing to do the hard work to be the kind of person who can make a difference.
I would like everyone to know that Jim has my full support and approval. I believe he's the right person at the right time with his skills, interest, passion, and love for the Lord. We are thrilled that he will lead the way forward for Catholic Charities.
Jim and I spent many hours working together in May and June meeting with our staff, board, supporters, and local government leaders to help him transition into his new role. On July 1, he officially became the president and CEO of Catholic Charities.
I officially became mission advocate. I look forward to my new role helping make sure we have the support we need to keep us saying "yes" to all who come our way, to following the guidance of Cardinal Wilton Gregory, and to doing our best to serve those in need.
In a few weeks, I will also begin serving as chaplain at St. John's College High School, also my alma mater. What a blessing it is to return to the high school I graduated from 58 years ago to offer Mass, help with counseling, and anything else I can do for the more than 1,200 young men and women who now attend there.
I'm excited for this next chapter in my priesthood. I'm excited for Catholic Charities and the wonderful future that lies ahead. And I'm excited for Jim Malloy, who has once again found his place here in Washington to serve and help those most in need.
At Catholic Charities, we try to give help that empowers and hope that lasts. It's what Jesus calls us to do. I know that Jim Malloy and the amazing Catholic Charities' staff and supporters will make sure that continues for years to come.
I'm excited for Catholic Charities and the wonderful future that lies ahead. And I'm excited for Jim Malloy, who has once again found his place here in Washington to serve and help those most in need.

Msgr. John J. Enzler

Mission Advocate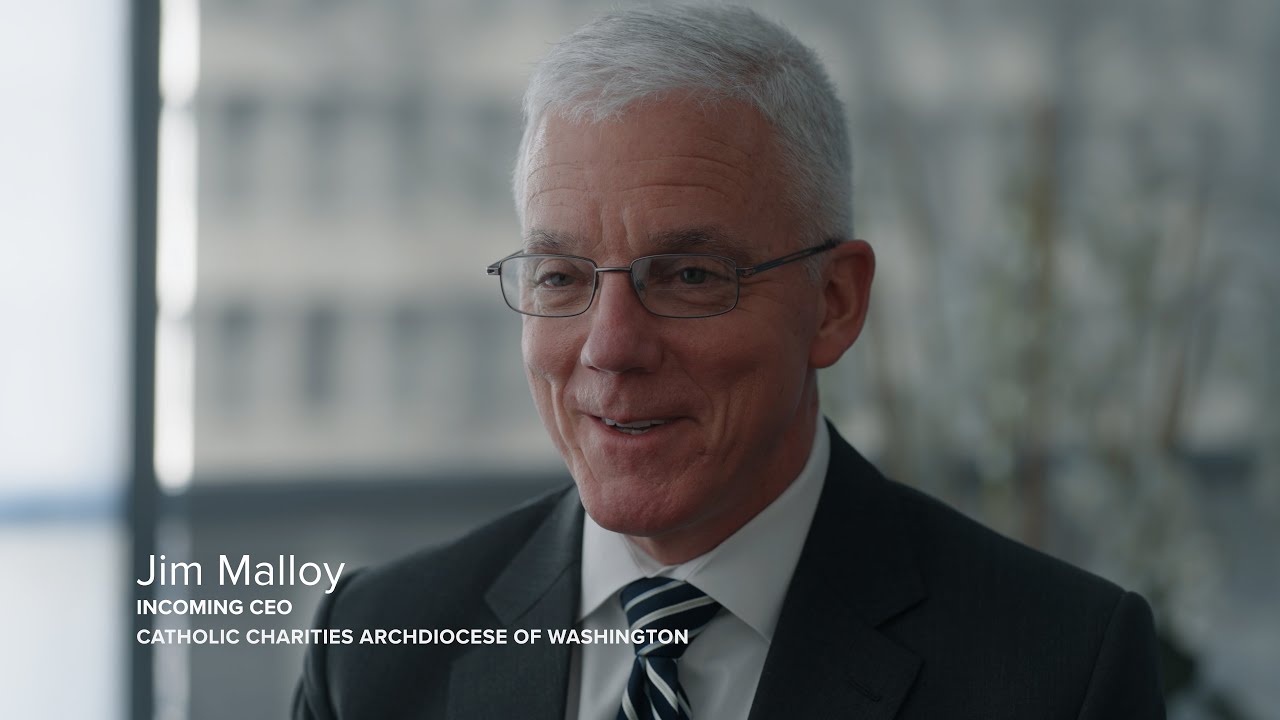 Share:
You May Also Like: