Care packs are a meaningful and flexible volunteer project for groups that want to support Catholic Charities' clients and programs. Our programs have developed wish lists of care packs they hope to give each client who enters their program. These kits provide personal necessity items that can ease the worries of clients going through challenging times of transition. To ensure each client receives one, we are looking for many volunteers to get involved.
Choose one of the kits below, find a group of interested friends or colleagues, and organize a time to collect supplies and package up the goods. Then reach out to the program contact listed below to organize a drop-off. Our clients appreciate your help and support!
We are currently in need of packs to support three programs.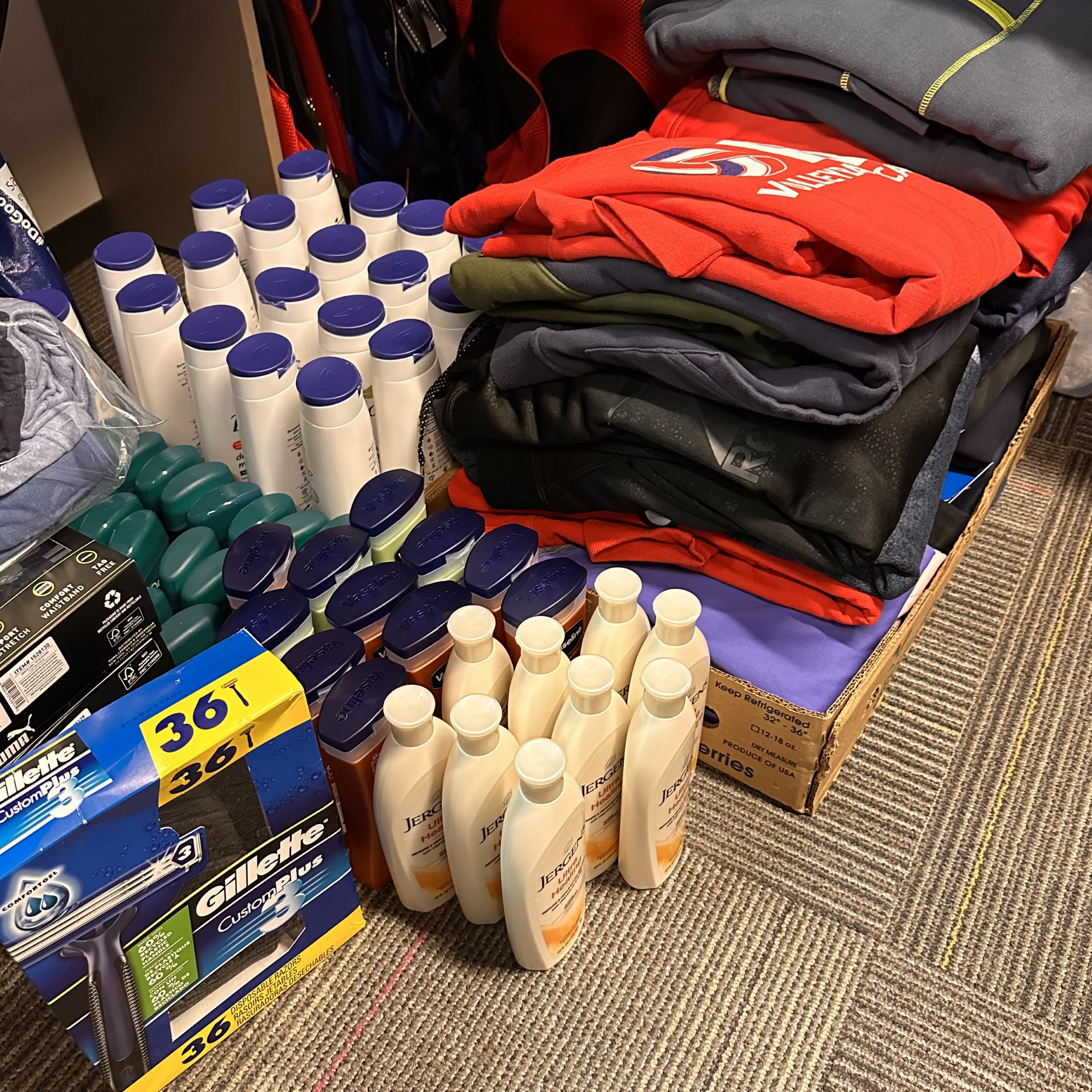 Welcome Home Reentry Package
Our Welcome Home Reentry program supports returning citizens in D.C. and Prince George's County with accessible housing, jobs, treatment services and food assistance.
Each pack should include:
One adult sized backpack
One set of toothbrush and toothpaste
One deodorant
One body soap and lotion
One disposable razor
One pair of socks
One set of hat, gloves (only needed in fall/winter)
One pair of underwear (women's sizes XL- 3X; men's sizes 2XL- 4XL)
Sanctuaries for Life
The Sanctuaries for Life program is a pregnancy support program that works to build a network of medical assistance and other support to women who make a life-affirming decision after facing an unintended pregnancy.
The New Life & Postpartum Pack should include:
One small pack of diapers
One pack of wipes
One baby care kit: nail scissors, medicine spoon, thermometer, suction bulb
One small bottle of infant gas drops
One diaper rash ointment
One pair of baby booties
One pack of onesies
One receiving blanket
One pack of bibs
To donate a set of 10 newborn or postpartum mother care packs, please contact Katherine Chicas.
Immigration Legal Services
Immigration Legal Services provides direct legal immigration services to foreign-born individuals and their families. Education Pack should include:
One adult sized backpack
One child sized backpack
One lunch box
One combination lock
One pack of pens and pencils
One pack of loose-leaf paper
One pencil sharpener
One spiral notebook
One binder
One water bottle
One hand sanitizer
One package of tissues
A Personal Pack should include:
One tote or drawstring bag
One shampoo
One body soap
One deodorant
One washcloth and one towel
One set of toothbrush and toothpaste
One hairbrush/comb
One pack of sanitary napkins (for girls; please NO tampons)
One set of hat, gloves, and scarf (only needed in fall/winter)
A note expressing welcome and encouragement
To donate a set of 10 unaccompanied minors education or personal packs, please contact Jacqueline Rishty.