Now that you've met Alex, Bryan, and the rest of the Enzler Society officers, learn a little more about the positive impact they're having on the participants in the Youth Transitional Program and why their work is so important.
Khalil, a resident of Catholic Charities' Youth Transitional Program (YTP), lacked self-confidence. When Enzler Society members Alex and Bryan worked with him on his resume, he was afraid to highlight his skills because he felt that he didn't have any. Khalil, like the 12 other young men he lived with in the program, was transitioning out of homelessness or aged out of the foster care and was facing an uncertain future.
One of the most detrimental long-term side effects of homelessness is an overwhelming sense of isolation, which affects a person's physical, mental, and emotional health; this is particularly harmful to homeless youth. Catholic Charities works to ensure that our homeless clients experience as much connection to each other and the outside world as possible. The Enzler Society, Catholic Charities' group for young professionals, has been instrumental in forging deeper relationships with YTP residents, specifically.
The group has committed to working and spending time with the residents on a consistent schedule to have the most positive impact possible. In collaboration with the residents, the Enzler Society plans trips into the city to visit sites like the Bible Museum, the National Portrait Gallery, and even a Nationals game. They also work closely with them on professional development including resume building, conducting mock interviews, and inviting guest speakers to open their minds to the possibilities available to them.
These activities not only help foster a more intimate sense of connection, but they also help prepare the residents to transition out of the shelter system and lead successful independent lives.
"Having other young adults as mentors for our youth in YTP means that the world can open up for these youth. Mentors provide encouragement and care in a way that staff sometimes can't," said Amanda Chesney, Executive Director of Housing and Homeless Services for Catholic Charities.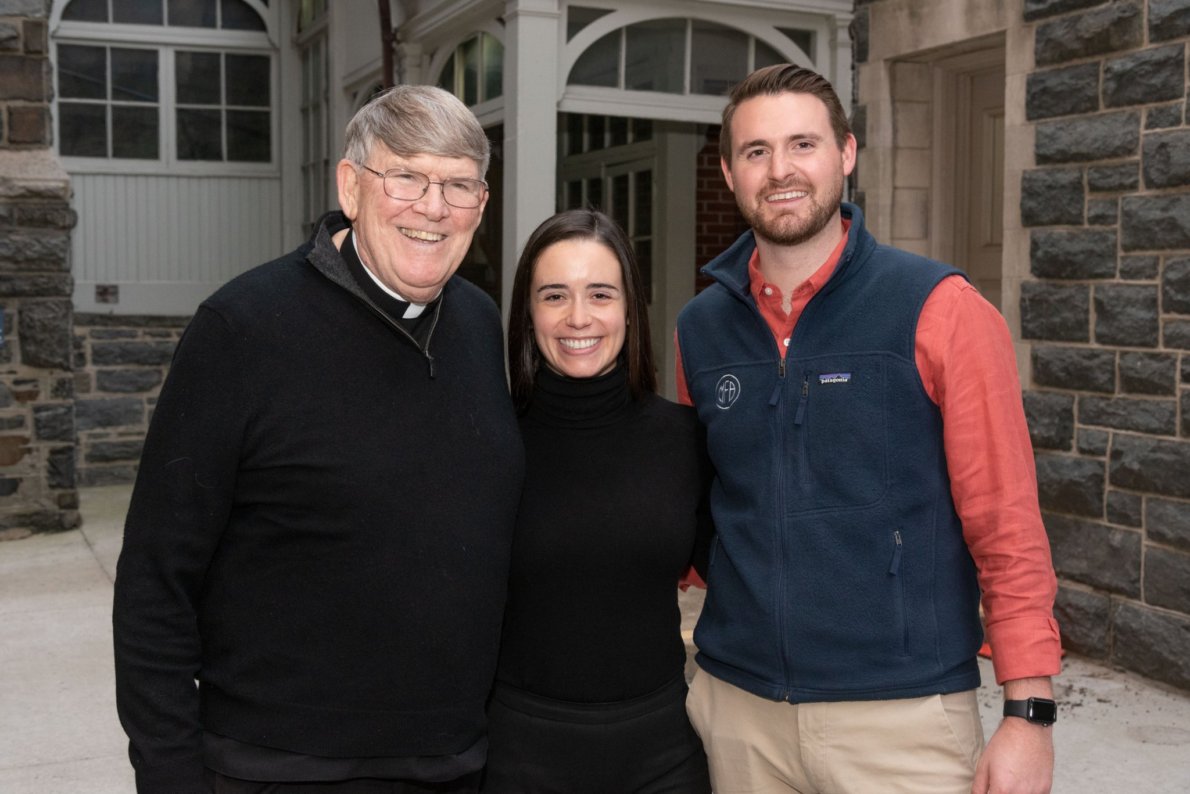 These relationships have helped the YTP residents blossom. Residents, like Chris who, Bryan and Alex noted had always been quiet with the group. However, after a trip to the Bible Museum, he opened up to them when they spent time with him one on one. And Bryan and Alex also worked diligently with Khalil, who was able to overcome his lack of self-esteem to build a marketable resume.
In the end, the Enzler Society members have learned just as much from the YTP residents as the residents have learned from the Enzler Society.
"Hearing the stories these young men have to tell can be just as valuable for us to learn about ourselves as the skills we hope to help the clients learn," said Bryan.
This is another in a series about the contributions of young professionals. To learn more about how you can get involved, visit the volunteer page. 
Previously:
Meet the Enzler Society Officers:
Volunteerism as a Family Tradition
Helping Clients Prepare for Jobs
Empowerment Through Fun Experiences
Improving Lives Through Creative Engagement
Using Professional Skills to Help Others Thrive