Article by Thomas Canary, Summer 2021 Intern
Food delivery took off during the pandemic, as people looked for ways to stay socially distant. It also helped a volunteer activity at Catholic Charities thrive at a time when few other volunteer opportunities could.
Dorothy Day Place is a transitional housing program for men and women in Rockville that helps those who previously experienced homelessness to find and prepare for life with a permanent residence. In addition to shelter and valuable resources to help secure housing, residents of Dorothy Day Place are given daily breakfast and dinner.
For many years, volunteers have helped to provide residents some dinners. But since early 2020, dinners for those staying at the shelter have been cooked and delivered almost entirely by volunteers thanks to a concerted effort to generate volunteer support.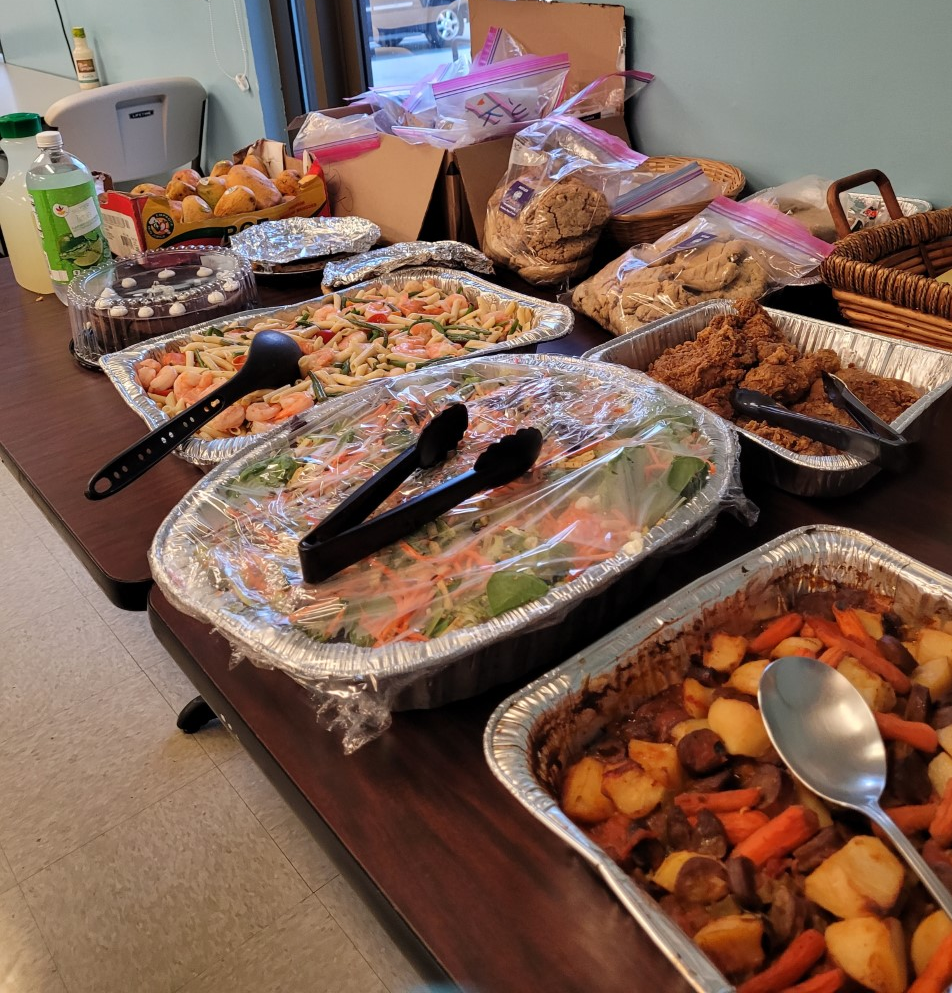 Volunteers sign up ahead of time to provide 20 dinners for a particular date. They then prepare the food and deliver it to Dorothy Day Place during the day. At dinnertime, staff members heat up and serve the food.
Because dinners can be delivered without contact, the program became one opportunity for volunteers to continue serving despite the restrictions of the pandemic.
Kenny Swift is an administrative assistant at Dorothy Day Place who, among other things, helps to coordinate the dinner donation program. He understands just how important it is to have this volunteer activity in place. "The cost savings are important," he says.
Swift also thinks there is a benefit to those who give their time and effort to provide food. "People get a chance to participate," he says. "They get an understanding of how they can share what they have in their own lives with those who are struggling at the moment."
One volunteer who has given more time than most is Mary Jane Reese. Now a mother of five, Reese has been involved with Dorothy Day Place since college, giving her time and talents in various capacities over the years. Recently, prior to COVID-19, she helped to organize a monthly game night for the residents. When that became impossible, she sought out another way to help.
Working with Dorothy Day Place staff and another volunteer, Suzanne Krudys, Reese played an instrumental role in bringing about the current iteration of the meal donation program. Together, Reese and Krudys revamped the scheduling system, reached out to past volunteers, and ensured that a consistent supply of dinners would be brought in to feed the residents. She continues to reach out to potential donors, and she serves as a contact point for those looking to help.
Reese found that operating an ongoing volunteer programs during COVID-19 brought both benefits and challenges. The ability to give back in a safe and socially distant way was a great outlet for those who volunteer and donate regularly, as well as for those who wanted to do what they could to contribute in a time of need.
At the same time, though, she notes that "a lot of people miss the interaction. You aren't serving meals and talking to clients. Not being able to see that is difficult." Whether or not the interactions are direct, though, the significant positive impact these donors have on the lives of those at Dorothy Day Place is undeniable.
Swift is grateful for the work Reese has done and says that the best way to help is to visit Catholic Charities' volunteer web page and sign up to provide dinner like a casserole or a pasta dish on one or more upcoming days.
Dorothy Day Place residents have had to overcome great hardships, and the COVID-19 pandemic has not made things easier for them. Fortunately, the efforts of Catholic Charities' amazing volunteers have helped to ensure the services of an important local housing program.