By Catherine Lee
On a Friday afternoon this fall, Catholic Charities' Scott Lewis watched as the driver of a truck loaded with food pulled up to an apartment complex for seniors in Southeast D.C. Residents of the complex would receive a box of groceries and a pre-cooked meal of Salisbury steak, gravy, mashed potatoes and squash.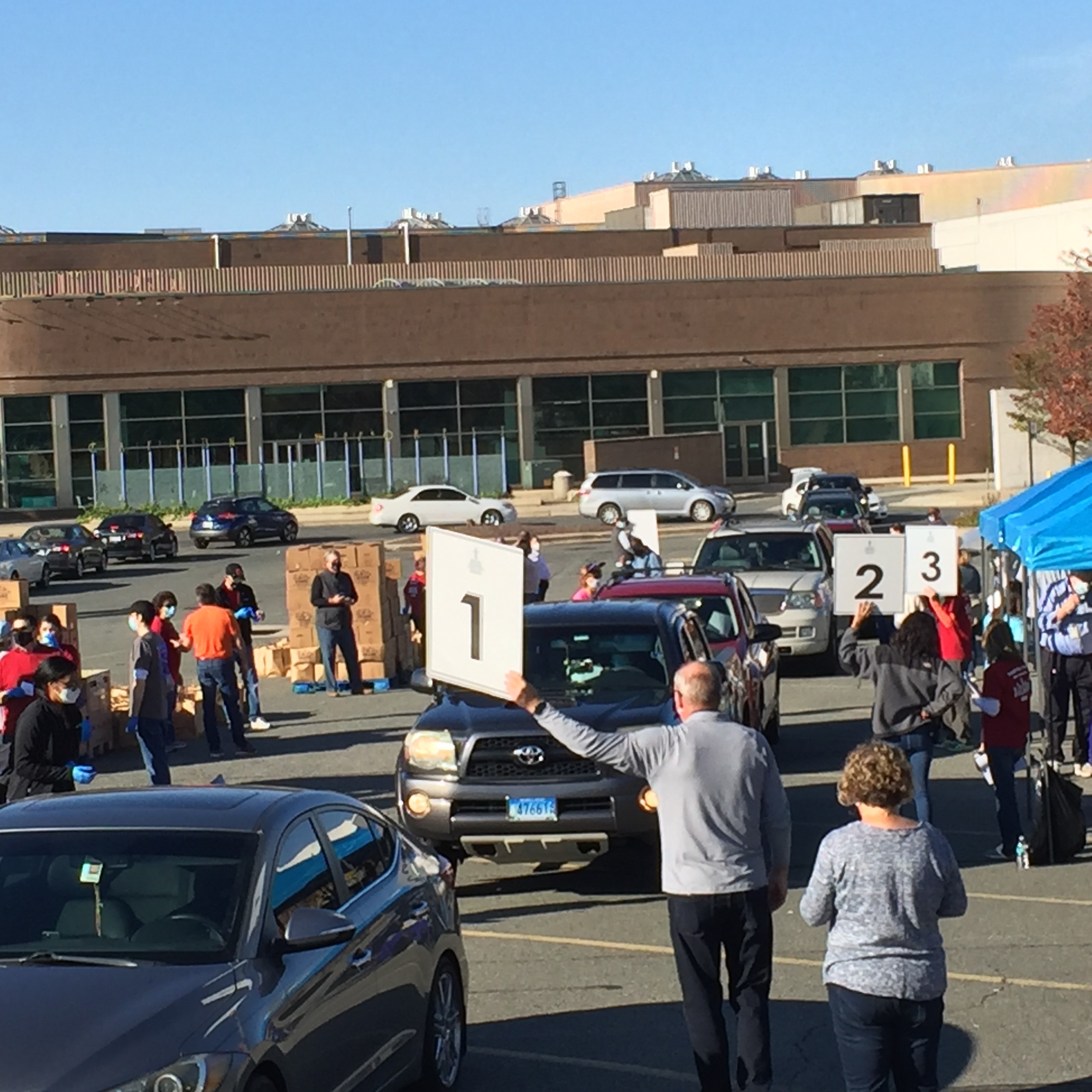 Afterward, the driver made a stop at an apartment complex about a mile away, where 150 families also received food. The day before, Lewis and his team had delivered food to three senior apartment buildings in Bladensburg as part of a pandemic assistance effort to provide food to residents of neighborhoods with the greatest need.
When COVID-19 and the economic fallout hit in March 2020, many area families struggled to meet their basic needs. First and foremost was the need for food.
Catholic Charities conducted 26 large-scale food distributions, including one that took place less than a week after other institutions that serve the vulnerable started shutting down. "We pivoted and became even more nimble at responding to the needs around us," says Lewis, executive director of Enterprises, Education & Employment. The large distributions continued through December 2020.
The staff worked harder but smarter, developing new and creative ways to get food to as many people as possible, says Lewis, who manages programs that buy and package bulk food, the kitchen that creates hot meals, most of the food pantries and the on-the-street hot meal service for the homeless.
"We were not going to close when we knew that the community we serve was less concerned about the pandemic than they were about eating the next day," he says.
Before the pandemic, a food pantry at a Catholic Charities' location in Northwest D.C. was serving 50 people a month — a number that grew to about 600 a week during the pandemic.
Despite having concerns about COVID, the staff was determined to continue providing services. "We work daily with hunger and poverty," Lewis says. "With the pandemic, it was just manifesting itself in a different way."
When the pandemic struck initially, in-person services at Catholic Charities were reduced or paused. The dental program closed, and medical clinics accommodated fewer clients. Homeless shelters reduced capacity, while expanding hours to 24/7, increasing the number of shelters and adding accommodations for older and vulnerable individuals.
Many services, including Kennedy School classes, job training and classes for English speakers of other languages, became virtual, and telehealth visits were added to medical services. This required buying laptops and software and, in many cases, teaching clients unfamiliar with computer technology how to use it. With greater use of technology, programs adapted and services gradually resumed in new ways.
Catholic Charities stopped using volunteers because of concerns about their safety. Gradually, volunteer opportunities reemerged, with people serving in new ways — helping with outdoor food distributions, sewing cloth face masks, and preparing meals at home and taking them to homeless shelters.
Despite the challenging time, two new programs began during the pandemic — the Volunteer Medical Clinic, which provides three full days of service with the help of 60 volunteer doctors and nurse practitioners, and the Newcomer Network, which provides legal and integrated social services for people who are new to the United States. Rental assistance emerged as another critical need, and that service was expanded.
"The pandemic opened doors for us and sparked creative new solutions for longstanding problems," says Msgr. John J. Enzler, president and CEO. "Walking through those doors are the people we serve, who need not a handout but a hand up to improve their lives. We're doing it one by one, day by day, all throughout the year."
Once vaccines were developed, Catholic Charities hosted vaccination clinics. Staff members posted selfies of themselves and produced a video to encourage their clients to get vaccinated.
Denise Capaci, executive director of Adult and Children Clinical Services, was determined that none of her clients would fall through the cracks. Capaci, who oversees behavioral health, medical, dental and legal services, says that she and her department made changes to the programs to accommodate both their clients' needs and the safety of the staff.
Capaci's team developed unique ways to stay connected with clients whose mental health was at risk because they were isolated during the pandemic. A client who was afraid to use a cell phone was given an iPad. Sitting on her porch, the client used the iPad to communicate with a case manager sitting in a car.
"Sometimes we had to figure it out one person at a time," says Capaci. "Often the beauty and grace of what we do is in the simplicity of sharing a meal or coming up with a creative solution to a problem."