We are thrilled to announce that the solar array on our Gift of Peace property in Northeast Washington is complete and is generating energy!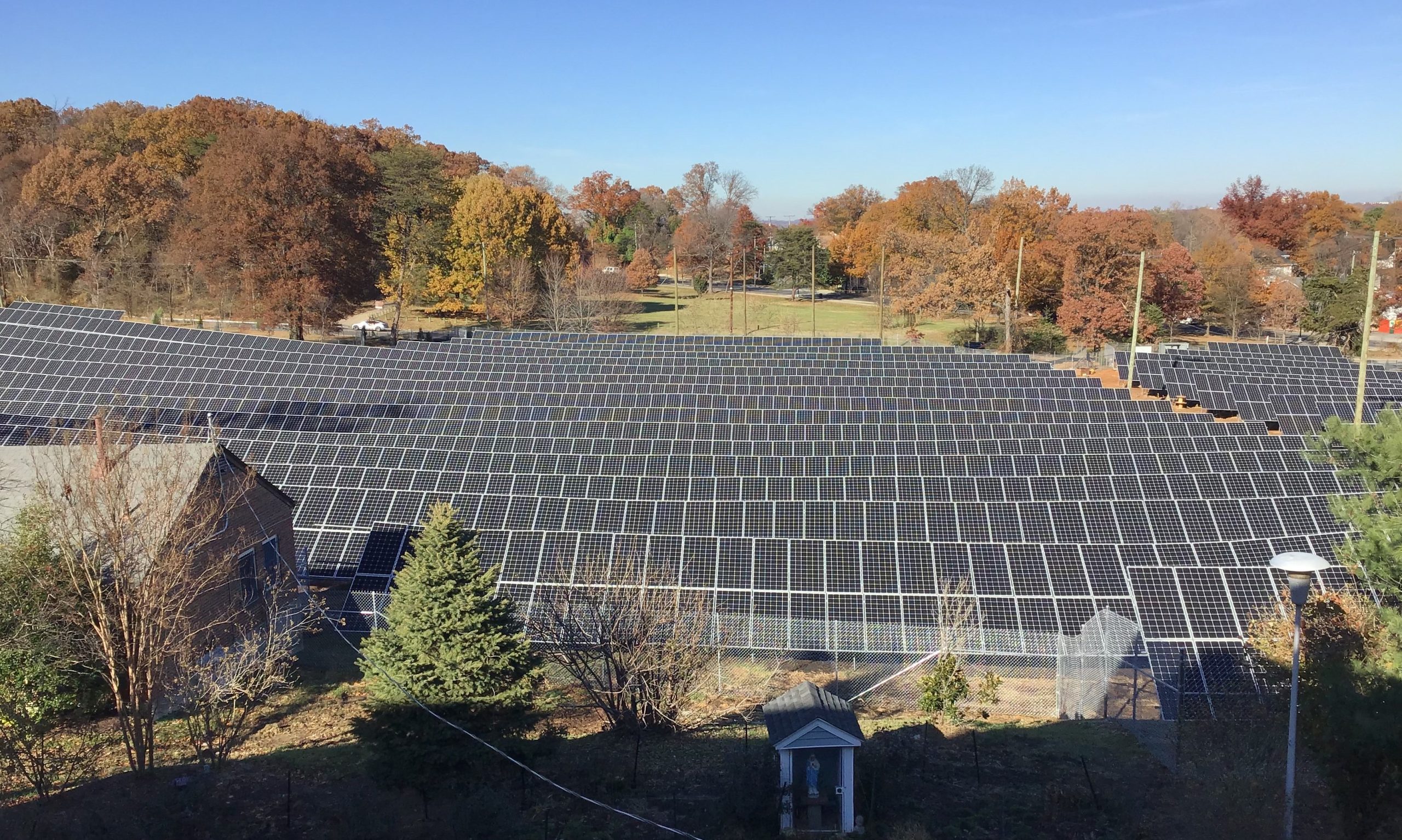 Heeding
the Holy Father's call to care for the Earth, as outlined in the encyclical Laudato
Si, the array – the largest in the District — provides a unique opportunity to
support one of the seven principles of social justice: work for God's creation.

Working
with partners at Catholic Energies, a project of Catholic Climate Covenant; IGS
Solar; and Solar Energy Services, we broke ground on the project last summer
and hosted a blessing ceremony with Archbishop Wilton Gregory and Mayor Muriel Bowser
in October.
"We are proud to be one of the first to implement the pope's strong moral teaching and excited to be part of an effort throughout the church to be more conscious of our stewardship of God's multiple blessings," Msgr. John Enzler said at the blessing. "I'm particularly proud that Catholic Charities is taking a proactive step in making solar a part of our commitment to responding to the environmental needs of our society, not just for today, but for generations to come."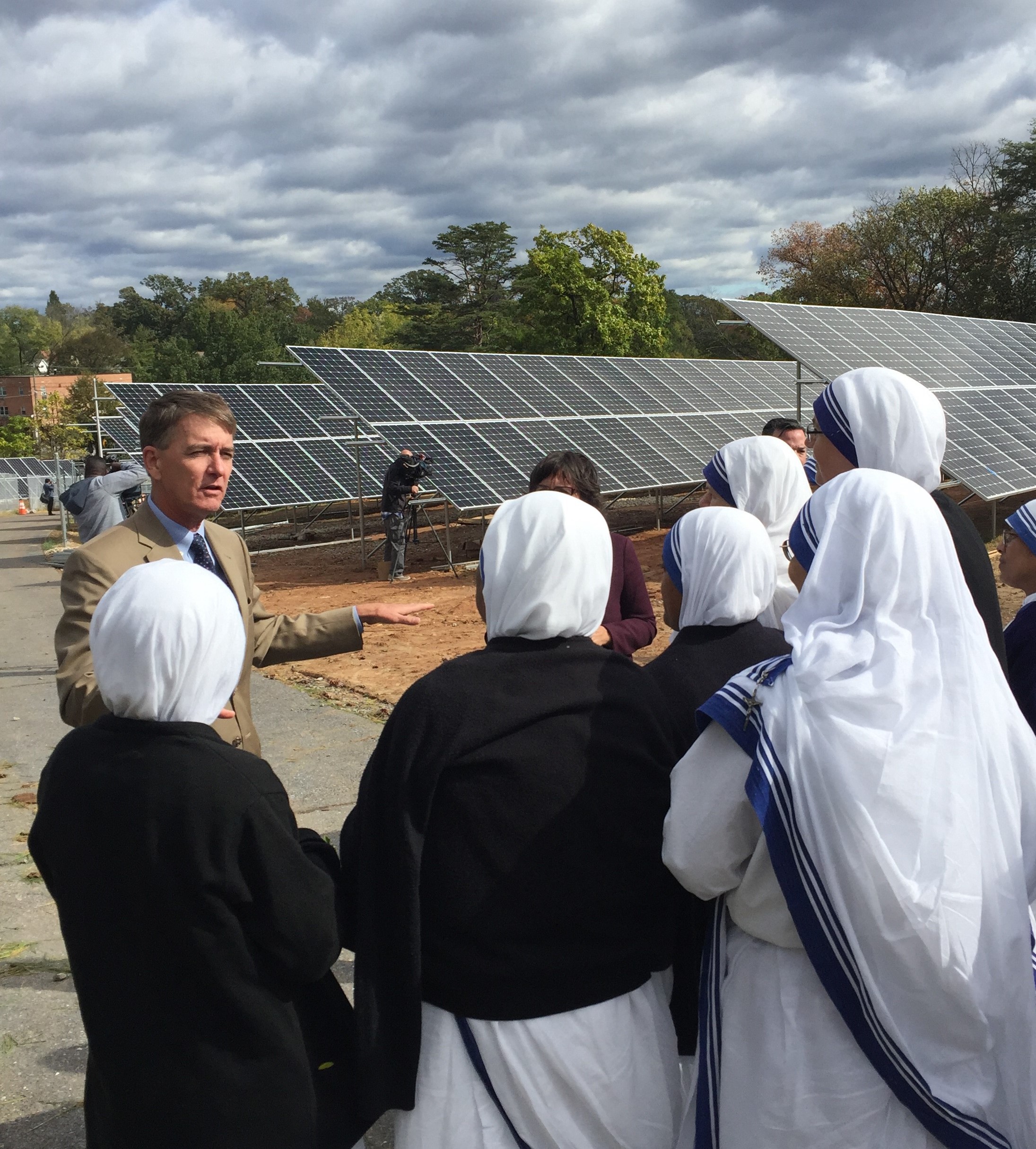 The
array features more than 5,000 of the highest quality panels and sits on a five-acre
lot. When fully operational, the project will produce 2.7 million
kilowatt-hours a year — enough energy to power nearly 700 homes. Incredibly, it
will account for an estimated 2.5 percent, or one-fortieth, of all the
renewable energy produced in Washington. The array will offset nearly 100
percent of Catholic Charities' conventional electricity, allowing us to save hundreds
of thousands of dollars in energy costs each year. These savings will be
redirected to support our programs throughout the D.C. area. To ensure the
array benefits as many people in need as possible, any surplus energy will be
donated to Solar for All, a program that provides energy to low-income
residents.
"It's
not simply political, social or economic action we're taking," said Archbishop
Gregory in his blessing. "We're praising God today in prayer… for the gift of
the sun that shines on us, and more importantly, the Son that saves us."
As
an added benefit, the project will include a pollinator field with more than
650,000 flowering plants. The field, which is expected to be in full bloom in
the spring, will not only provide aesthetic beauty to the project, but it will
be a flourishing habitat for bees, butterflies, and other pollinating species.
These fields provide the unique opportunity to increase pollinator populations,
which have declined significantly in recent years with some species even facing
extinction.
The
site will also feature about 100 newly planted native, evergreen, and deciduous
trees along the perimeter of the array, which will provide optimum screening
and reduced shading of the panels.
"The
pope has been very direct in telling us what to do," said Mayor Bowser at the
blessing ceremony. "The pope has been clear to us to focus on three key words:
honesty, courage, and responsibility. I think all of those things are embodied
in this project."
The
project has already become a model for churches, generating inquiries from
dioceses across the country that are considering emulating our efforts to
create a sustainable path forward for their communities.
"We
at Catholic Charities have been stewards of this community for nearly 90
years," said Father John. "And now we want to be stewards of the environment so
that we can continue to serve those in need for the next 90."