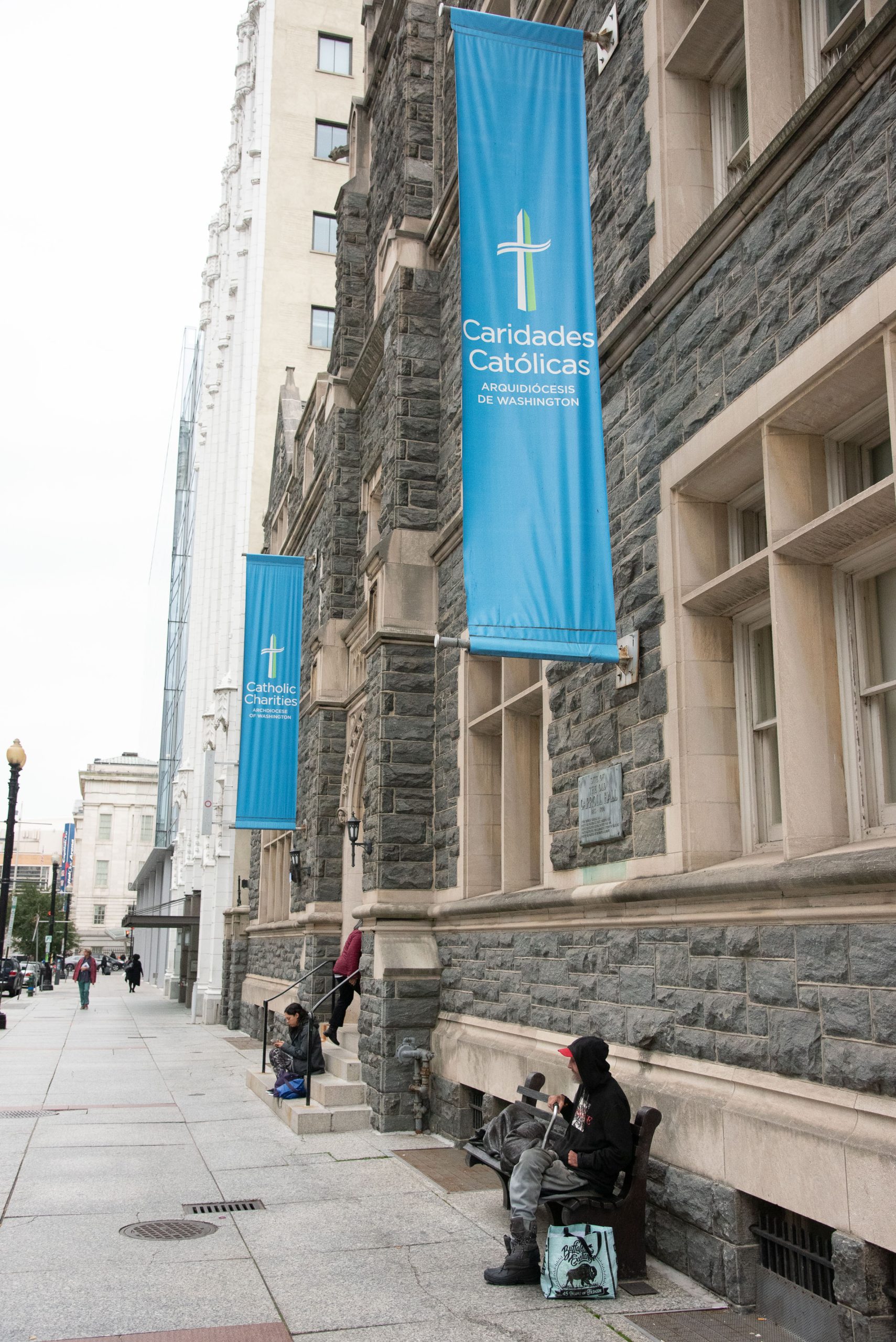 For more than 90 years — through wars, economic downturns and social change — Catholic Charities DC has cared for those in need. That's not changing, but we are adjusting our services in response to the coronavirus emergency.
Some of our 59 programs are continuing without change, but others are being modified to follow guidelines from the Centers for Disease Control and Prevention (CDC) and local governments and to ensure the health of our clients, employees and volunteers. The closure of schools and community buildings has meant the temporary closure of some programs.
This public health crisis is increasing the needs of the poor and vulnerable. We already are hearing of the need for food assistance from residents affected by the closing of businesses. We are diligently working to ensure that we can continue to meet their needs. Support of Catholic Charities by the community is more important than ever. We are accepting donations of money and supplies to support our coronavirus response.
Our most current updates:
Dental: Dental clinics are temporarily closed. In an emergency, please call 202-271-8215. (Para maximizar la seguridad de nuestros pacientes en este momento, las clínicas dentales de Caridades Católicas estará cerrada hasta nuevo aviso, debido al riesgo continúo del virus COVID-19. Si tiene alguna emergencia, por favor llame al 202-271-8215.)
Legal: Walk-in hours for Immigration Legal Services in-take, including in Gaithersburg, Md., and Temple Hills, Md., have been temporarily discontinued. Legal Network in-take is being done via phone, and in-person appointments are not being scheduled at this time.
Food: Because schools are closed and senior centers are limiting contact, the distribution of snack saks and senior saks has been suspended. Food distribution programs, including that of the Southern Maryland Food Bank, and St. Maria's Meals, are continuing in accordance with guidelines from public health departments.
Shelters: We operate five low-barrier shelters for the District and are following guidance from the Department of Human Services. Through April 1, all low-barrier shelters will be open 24 hours. The work of 175 staff members is being required to ensure the shelters remain open. Those seeking access to shelters are being screened with specific health-related questions. Lunch and dinner are served, with individuals eating separately, according to CDC guidance.
2020 Catholic Charities Gala: The annual fundraising event scheduled for April 4 at the Washington Hilton is canceled. We are considering alternatives, including rescheduling the popular event.
Volunteers: Most volunteer activities, including the popular Cup of Joe snack bag packing, have been suspended through March 31. Those volunteer activities that can be done remotely via phone or online will continue. Volunteers should not come to Catholic Charities locations. For updates, visit the volunteer website.
Education and training: Because schools in the District of Columbia and Maryland have been closed, our educational programs are curtailed. The Kennedy School and Child Development Center are closed, and the Community Companions program is suspended. Bank Teller Certification Program and ESOL classes are being held remotely, and the electrical training class continues. Participants in Supported Employment programs will be served on a case-by-case basis, depending upon protocols at their job locations.
Health care: Our medical clinics continue to be open, with patients being screened before arrival. We are not accepting walk-ins or new appointments. Telemedicine appointments are offered for sick patients. Health Care Network services as they are available are being done remotely, and many behavioral health services are being done remotely.
Financial: Tax services by professionals through the Volunteer Income Tax Assistance Clinic are being postponed. Financial Stability Network classes at the Southeast Family Center are temporarily discontinued.
Other programs: Community Options and Lifelong Learners programs are closed. Support groups at Archdiocese of Washington parishes as part of the Strong Family Initiative are postponed.
Throughout our 59 programs and 35 locations, we have taken action to mitigate the risk of the virus while continuing to manage our programs. We are keeping in close communication with our program partners and following the expert advice of the CDC and public health departments.
We remain vigilant, as we remain in service to the community.