Catholic Charities is playing an important role in helping vulnerable members of the community get accurate information about COVID-19 and make informed decisions about being vaccinated.
Through the education of Catholic Charities employees, information and resources on health and safety are being cascaded to clients, particularly people of color who have been most affected by COVID. Starting May 18, the agency will take the next step in this public health campaign and offer vaccinations to its clients by appointment at our location in Northeast D.C.
The agency's in-depth work on COVID-19 began when an organization-wide task force was set up in March 2020. It created building operation plans and contact tracing and other protocols. Information and resources from the group was shared in weekly updates to the staff.
A subcommittee focused on the vaccine geared up this winter. It created a vaccine toolkit for managers, organized a staff presentation by volunteer Dr. James Goedert, and addressed vaccine hesitancy in small group discussions.
"We built systems, policies and educational materials that aligned with current public health guidance to protect the health and safety of our staff, clients and communities. Building and applying these protocols required collaboration across departments, expertise and swift mobilization," said Bernadette Antoon, director of professional development and a leader of the task force. "We truly built bridges to better health."
When the vaccine became available this winter, "vaccine helpers" coordinated by the Volunteer Engagement Office assisted front-line staff, clients and families in preregistering for the vaccine and getting appointments.
Departments such as Developmental Disabilities Services and the Newcomer Network assisted clients in registering for vaccine appointments. When custodial staff that clean medical sites became eligible, Catholic Charities managers helped them overcome challenges in navigating the registration process. COMPASS hosted a virtual Q&A session with its client members, and staff with Anchor Behavioral Health and other programs encouraged clients by sharing "Why I Got Vaccinated."
In February, CEO Father John Enzler reflected on the pandemic in an email to staff. He encouraged employees to get vaccinated to ensure the health of their clients and coworkers, saying: "I'm so pleased that a number of our front-line workers have received the vaccine and that staff and residents at our low-barrier shelters are receiving the vaccine, as well."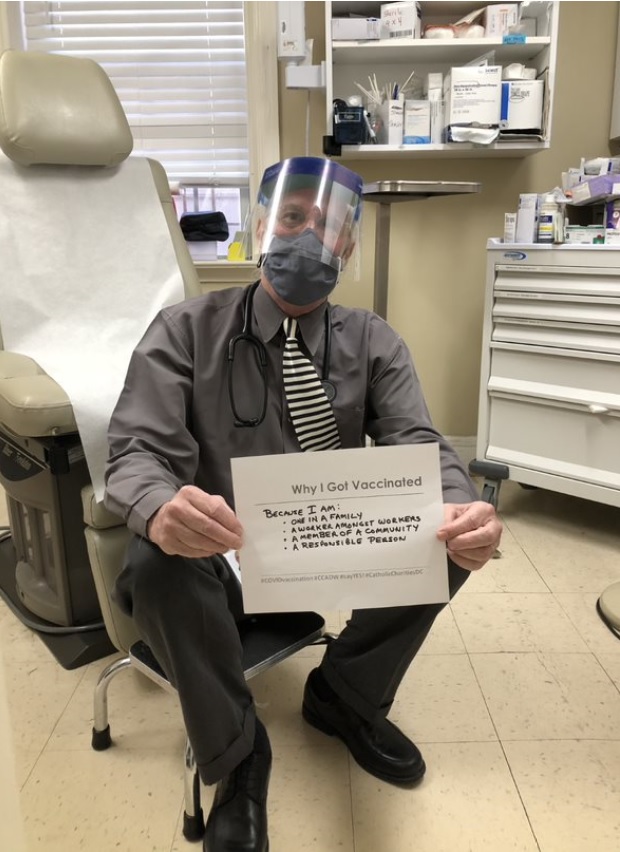 Managers were crucial in getting front-line staff vaccinated as quickly as possible. The agency provided paid time off for vaccine appointments and offered transportation.
Supervisors aided employees whose work situations limited their ability to get an appointment. Employees of the KitchenWork program, as an example, work in the field and do not have time to access a computer. Once they were eligible, a manager proactively searched for vaccine opportunities online and secured appointments for them.
Once eligibility was broadened this spring, more than 200 staff members and active volunteers were vaccinated through a partnership with Holy Cross Hospital.
The agency's expertise gained through these experiences has been shared in the larger community. In late April, four staff members gave a two-hour presentation in a "COVID-19: Tabletop Discussion" for the Maryland chapter of the National Association of Social Workers. Seventy-five people attended the presentation, which qualified for continuing education credits.