As the Washington, D.C., area begins its third week of stay-at-home practices, Catholic Charities continues to modify its programs to ensure the health of its clients and staff.
"Ensuring the safety and health of our staff and community is at the core of every conversation about our next steps and the decisions we make," says Patrick Dunne, chief operating officer.
As essential services, Catholic Charities' food, shelter and medical care programs are continuing. Adjustments have been made in these and other D.C. and Maryland operations to comply with executive orders from government and recommendations by the Centers for Disease Control and Prevention.
"We are reaching out to partners, both private and public, to make sure we can help each other and benefit from resources that are normally not available to us," CEO Msgr. John J. Enzler says. "It is a frightening time for the community, but we continue to open our hearts and hands and reach out to any and all who are in need."
Program Updates
Offices Closed to Visitors: Catholic Charities' headquarters at 924 G St. NW, Washington, is temporarily closed to visitors. The Anchor building on Lawrence Street NE, Washington, is closed except for the medication service. Those patients will be escorted into the building.
However, we remain committed to serving those in need. For help, contact us at GetHelp@CC-DC.org or 202-772-4300.
Food and Meals: In a safety-first move, SHARE Food Network package distribution is suspended until April 10. As a result, pantries and other services will disseminate grocery gift cards to those needing food assistance. St. Maria's Meals service on Tuesdays and Wednesdays and the Southern Maryland Food Bank continue with physical-distancing practices such as curb-side pickup and to-go service in place. Because schools are closed and senior centers are limiting contact, the distribution of snack saks has been discontinued.
Health Care: Medical clinics continue to be open, some with limited hours, including the clinic at the Susan Denison Mona Center in Temple Hills, Md., which is operated by Doctors Community Hospital. Patients are being screened by health-related questions before arrival. We are not accepting walk-ins or new appointments. Telemedicine appointments are offered for sick patients. Health Care Network services as they are available are being done remotely, and many behavioral health services are being done remotely.
Dental: Three dental clinics are closed. For emergencies during the workweek, contact 202-271-8215.
Shelters: Five low-barrier shelters operated by Catholic Charities on behalf of the District of Columbia are open 24 hours. Those seeking access to shelters are being screened by health-related questions.
Legal Services: Walk-in Immigration Legal Services consultations and charlas are suspended. Individuals can reach out to office locations for information on how to access remote services. Legal Network in-take is being done via phone, and in-person appointments are not being scheduled at this time.
Maryland Programs: To comply with the governor's executive order, Angel's Watch Shelter, Dorothy Day Shelter, St. Ann's Kitchen, Southern Maryland Food Bank, Silver Spring Medical Clinic and Montgomery County Rapid Rehousing will remain open and operating. Buildings that are temporarily closed include Spanish Catholic Center-Gaithersburg, Magnolia Center-Landam, Community Options-Gaithersburg and Community Companions-Rockville. Many programs at these locations have moved to remote services. Check with the program for information about continuing services.
Education and Training: Because schools in the District and Maryland are closed, our educational programs are curtailed. The Kennedy School and Child Development Center are closed. Bank Teller Certification Program and English as an Other Language (ESOL) classes are being held remotely, and the electrical training class continues. Participants in Supported Employment programs will be served on a case-by-case basis, depending upon protocols at their job locations.
Financial Literacy: The Financial Stability Network will work with clients virtually to complete the filing of their tax returns.
Other Programs: Lifelong Learners program is closed. Support groups at Archdiocese of Washington parishes as part of the Strong Family Initiative are postponed.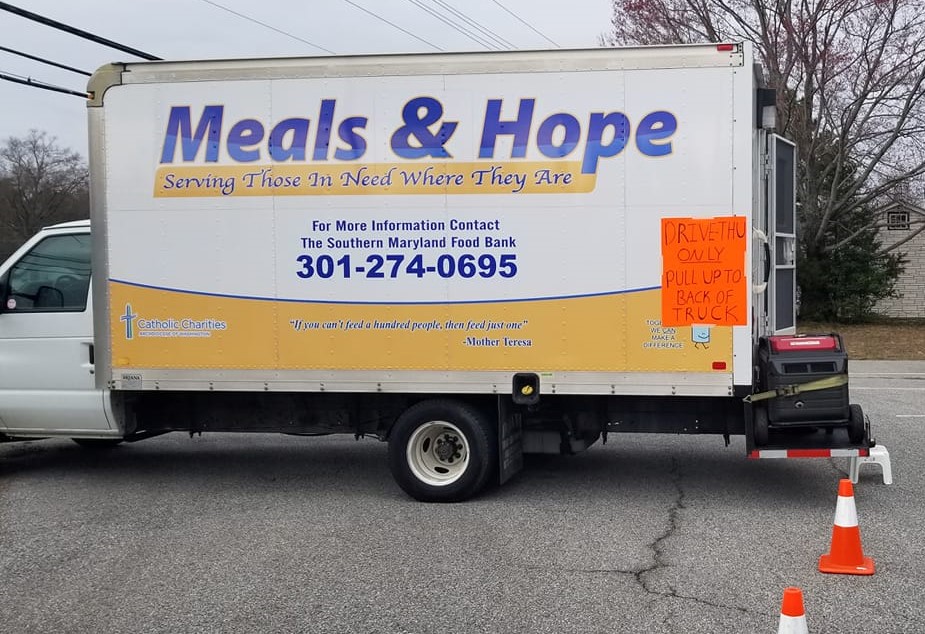 Most Catholic Charities programs have turned to technology — telehelp — to assist people. Client consultations are being done by phone, job training is being taught online, and literacy students and instructors are meeting via conference call. Important for the safety of all involved, strict healthy-first measures are being taken by programs that must provide in-person services.
Volunteers are critical to our success. But for their health and the health of our clients, most volunteer activities are suspended. Those volunteer activities that can be done remotely are continuing. For updates, visit the volunteer website.
There are several ways you can make a difference:
• Make a monetary donation to support essential social services.
• Purchase grocery gift cards in increments up to $50, mailing them to Catholic Charities, Attn: Development, 924 G St. NW, Washington, D.C. 20001 or emailing them to giving@cc-dc.org.
• Donate items essential to our programs and service via Amazon Wish List or other delivery service.
To learn how you can help, visit our How You Can Help web page.