As the season of giving quickly approaches, Catholic Charities DC is so fortunate to be supported by an incredible community of people dedicated to helping those in need. Throughout the month, we will feature some of our amazing volunteers and donors in this space as a way to give thanks for giving back.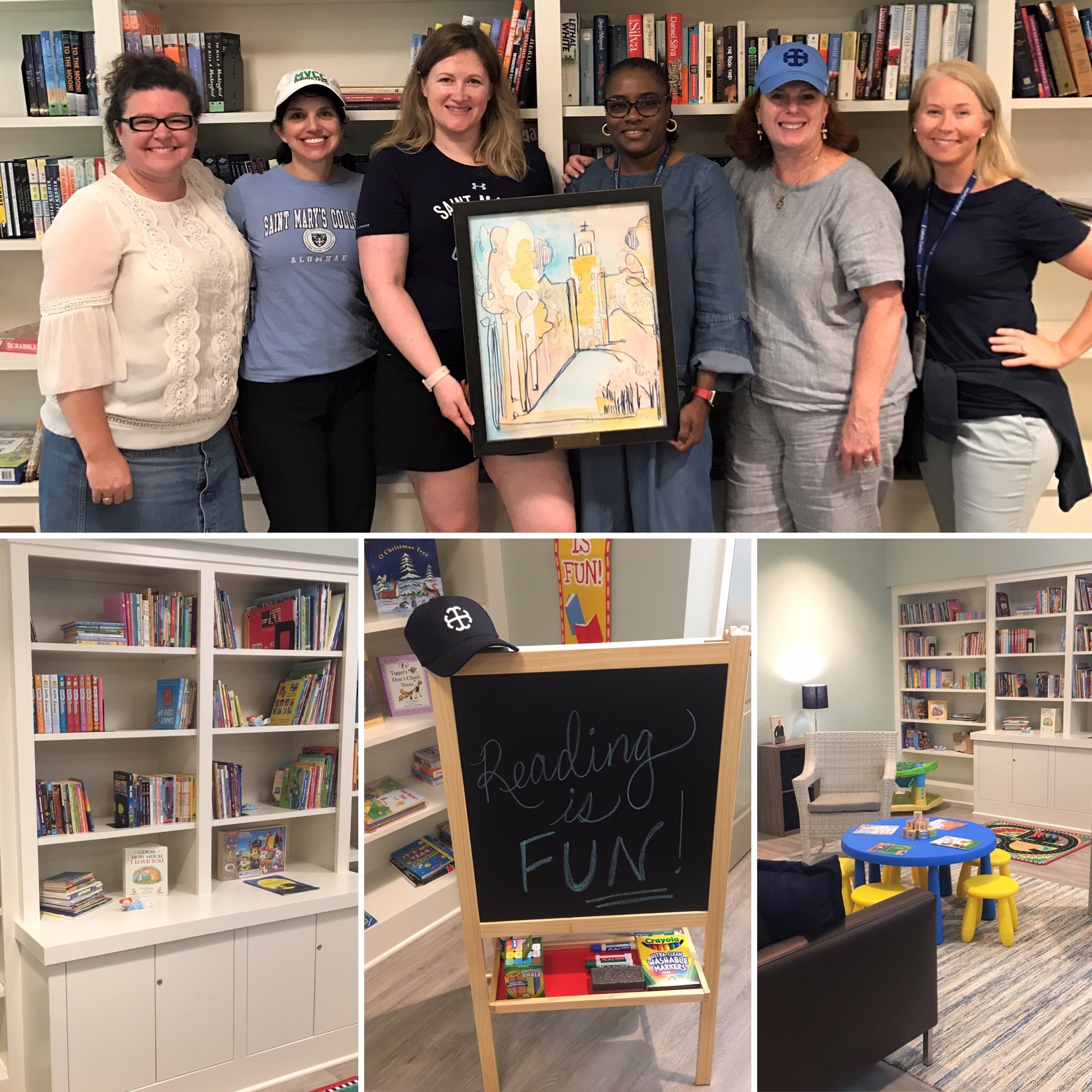 Theodor Geisel, more commonly known as Dr. Seuss, once wrote, "Unless someone like you cares a whole awful lot, nothing is going to get better. It's not." While whimsical, it's a powerful concept in its simplicity, and it's a belief that has driven Beth Veihmeyer since she was a child. Her deep commitment to service started early and was nurtured throughout her life.
For Veihmeyer,
giving back isn't a hobby- it's a calling. She sees it is an honor to be able
to help those in need and she is driving change at a global scale. Along with
her husband, John, former chairman of KPMG International, she established
KPMG's "Family for Literacy," the firm's flagship citizenship program. In 11
years, the initiative has distributed more than 4 million free books to
children in need around the world, winning numerous awards including the George
H.W. Bush Points of Light Award.
While her efforts
have helped children in 14 countries, including India and Mexico, Veihmeyer
knows the importance of charity starting at home. She is a devoted longtime
supporter of Catholic Charities DC. Through her work as a hands-on volunteer
and a vocal champion, she has been vital to the growth and success of the
agency's programs that provide fully comprehensive services to more than
140,000 people each year.
Her desire to improve the lives of people in her own community was what drove her, along with a college friend, to create a special philanthropic initiative 30 years ago.  Before the days of HGTV and Extreme Makeover: Home Edition, it was Veihmeyer who spearheaded an effort to help needy families by outfitting their houses with the necessary items to turn them into homes. Working closely with Catholic Charities DC's CEO, Monsignor John Enzler, she recruited an army of help from the Washington-area Saint Mary's College, Notre Dame (her alma mater) alumnae club to help a new family each year. For 15 years they covered rent and utility bills, and they even provided cars when needed.
One particularly
special year, they even refurbished an entire elementary school that had fallen
into disrepair. Incredibly, they raised enough money to purchase a school bus,
computers and books for every classroom, and a new playground. An astounding
300 volunteers rallied behind Veihmeyer to help complete the project and give
underserved students the environment and the resources they needed to develop a
love of lifelong learning.
The project evolved over the next few years as support grew. Instead of renovating houses, they adopted families during the holiday season, focusing on female-led households. Veihmeyer led the charge to ensure these families had everything they needed.
To celebrate the project's 30th anniversary this year, Veihmeyer wanted to do something special around two very important focus areas: education and health care. So, instead of adopting one family, she and her fellow Saint Mary's alumnae volunteers adopted several families currently living in Catholic Charities' Angel's Watch shelter. Angel's Watch has been a source of safety and new beginnings for women and their children fleeing domestic violence or homelessness in southern Maryland.
Recognizing the
strong correlation between hunger and the inability to learn, Veihmeyer wanted
to bring education and food to a deserving place where children could feel
safe, grow, and learn. She, along with hundreds of her fellow alumnae, stepped up
by raising more than $15,000 to support Angel's Watch, in addition to donating
2,000 books for children to keep, and food to stock the shelter's pantry from
June through the holidays.
To ensure shelter residents received the right resources, Veihmeyer was quick to employ the talents of Saint Mary's alums to guide the project, such as having children's librarians choose the books and nutritionists select the foods. She wanted the women to know that they are supported, so that they can focus on supporting their children.
The purchase of the
books by the group was aided by a partnership with First Book. When the newly
outfitted library was opened to shelter residents, Veihmeyer was suddenly
surrounded by her favorite sound: the crack of the binding when a child opens a
book for the first time.
"It was so
satisfying to see the kids react to the library go from an empty room to one
that was full of books," Veihmeyer said. "One little boy was thrilled to
receive a book he had been reading at school, because he could now take his
time reading it."
Veihmeyer is a testament to what happens when women lead- they change lives at home and around the world. Assembling her community of more than 700 Saint Mary's alumnae in the DC area, she has helped improve the lives of countless families facing profound challenges. Her leadership, initiative, commitment to others, and investment in the future support another important idea from Dr. Seuss: "It's not about what it is, it's about what it can become."